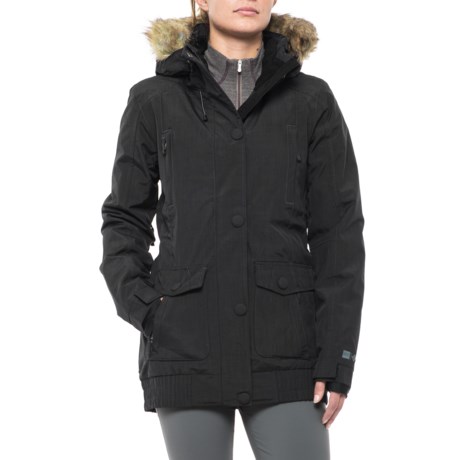 Just Super Impressed
Verified Buyer
Reviewed by Collaflower from Illinoise on Friday, January 12, 2018
I can't praise this jacket enough. I had reservations when ordering. First of all, it was going to potentially be replacing my beloved old North Face shell that has been the best winter jacket I've ever had. Second, it was only about a third of the budget I had allowed myself for my new jacket. Third, I wasn't familiar with the brand and had been aiming for another North Face, or Columbia, etc.

It arrived just in time to give it a thorough testing, in the middle of the subzero cold snap here in Chicago, so I immediately put it into action. Here are my observations:

FIRST IMPRESSION: I didn't want "frills" on my jacket (colored zippers, color blocks, etc.), and this one looks even better than the photos on STP, which made the fabric look oddly textured. But it's exactly what I wanted. It's very well made, feels like quality, and is not too heavy (the first jacket I ordered - then returned - weighed probably a pound more).

SIZE: I ordered Medium, and it seems perfectly medium. I'm 5'6", normally wear size 8-10, or medium tops. I'm almost always wearing a wool sweater in the winter, and the jacket fits perfectly with or without it, and with or without a scarf also.

WARMTH: Amazing. Went walking in the low temps and was perfectly warm and protected from the wind. The "waterproof breathable external shell" has already been tested in snow AND rain, thanks to the typically schizophrenic Chicago winter. No leaks! But equally important is that I spent over an hour in a thrift store wearing this jacket and *did not get hot*. Beautiful.

ARMS: Longer than my previous jacket, which I never thought of as too short, but it is nice to completely extend my arms and not have the cuffs ride up. They also have the "stretchy thumbhole sleeve gaiters" which I've never had in a jacket before, and I feel are a good addition, just one more protection from the cold. You can opt to put your thumb in or not. It also has the "touch-fasten sleeve cuffs" (velcro cuff tightener) and I found this invaluable on my old jacket, so happy to have it still to ensure my wool convertible gloves stay tucked in.

LENGTH: Perfect. I was concerned that the gathering at the bottom ("stretchy elastic hem") would be strange, but I honestly don't notice it - that is until I want to reach into my back pocket to retrieve my phone. Not a biggie, just noticeable. It's not tight around the legs. I've seen some coats this winter that are oddly long. This one is just the right length to me. Also the "stretchy elastic powder skirt with silicone grip" really is great. Being in this windy city, it's important. My friend has a new similar jacket without this feature and she has complained of the cold coming in when it's breezy.

ETC. I haven't had the need yet to try out the "mesh ventilated pit zips" but will soon when I get back on my bike, and am happy about this option. The "attached hood with drawcord cinches and detachable faux-fur edge" and "stand-up collar with brushed lining" are good, though I'd love to replace the fairly cheapish faux fur with a better quality faux fur - not a biggie though, and it is great to have the full coverage in the wind. Though when pulled fully forward, you have very little peripheral vision, so I have pulled it halfway back when I have it up. It stays, so I'm happy. "Two-way front zip with zipper garage, backing storm flap and magnetic placket" - the magnets are great! I didn't pay attention to this in the description when I ordered, but it's a great feature. The flap closes automatically when you zip. Quite nice.

As you can tell, I'm loving it. Money extremely well spent, at a third of my budget. So thankful for STP and this PWDR Room jacket.




Most helpful positive reviews
Most helpful negative reviews
Similar items and more information in the following areas: