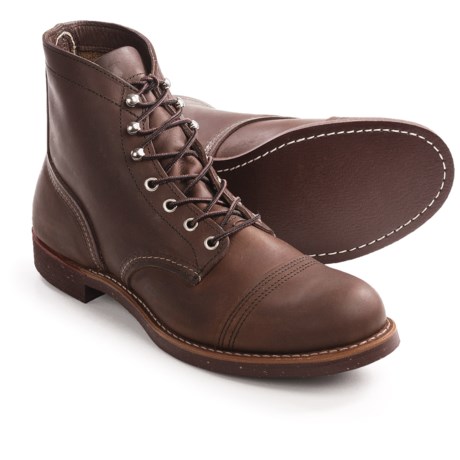 I Don't have any horror stories to relate. I ordered a pair o ffactory 2nd Red Wing Iron Ranger Cap Toe and am very pleased ..I am unable to determine why they are 2nds.

Steve

Sorry, can't help you with that! Mine arrived in perfect condition and I still cant find any defects. Very pleased with this purchase even though one should be cautious when purchasing a Factory 2nd product. Sierra Trading Post has never let me down in this regard as I have purchased several products that were advertised as such. Good Luck in your quest of finding a horror story for your upcoming novel of the Factory 2nds saga.

I've purchased many 2nd quality items and some of them I still haven't figured out what is wrong. Others it took me months to figure it out, but nothing that has bothered me at all. We are not given the specific reason that an item has been marked as 2nds. 2nds are usually due to minor cosmetic blemishes or irregularities which do not affect the fit, performance, or longevity of the item. Label is usually clipped or marked by the manufacturer. A small flaw means big savings.

Well, factory seconds are literally a hit or miss.

I purchased 2 pairs of iron rangers.

My first one, I couldn't figure out why they were seconds. Aside from some scratch marks....I would get from walking in those shoes in 1 week, it was as good as firsts. (Sadly I had to return this one..due to it being half size too small)

My second one, which was the replacement of my first successful is not as good.

It actually is a defective...

vamp area of the shoe (top of the feet) is completely crushed due to mis-construction..and it has really bad wrinkles & folds into my feet whenever I walk.

I think it will be fine once i fully break it in.....but it is not as good as the first one.

I don't know why mine were seconds and I've seen many say the same, although I have heard about a few bad experiences.

It's Mike answering my own question so I asked a question before I received my factory second iron Rangers I ordered three pairs because that's how many they will let you have and I figured hey why not have as many as they'll let me have so I got the Oxblood copper rough and tough and Amber harness the Oxblood and Amber harness came with no flaws and I still have not decided why there Factory seconds and the Ruff and Tuff which is the easiest leather to mark up came with a few scuffs and a little tiny Nick of leather out of the toe cap it didn't go through even the first layer of leather on the toe cap and I rolled it in the place put a little oil on it and you can hardly even see it I'd say going Factory seconds the only way to go since you really can't tell that they are even defects.

No, they are all good, I can not find any defects, they are perfect.