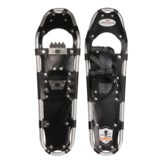 Closeouts. Redfeather Hike snowshoes are your ticket to a winter wonderland. A live-action hinge lifts the tail for greater speed and mobility, as well as less fatigue. Plus, the stainless steel crampons are powder-coated to prevent ice and snow build-up, ensuring secure footing in icy conditions.
Average Rating based on
26
reviews
4.615384
0
5
Verified Buyer

Reviewed by The outdoorsman from Michigan on Friday, December 18, 2015

The ease of use and simple design make this product a no brainer. Great for the beginner z

Verified Buyer

Reviewed by HikerBob from Westernmass on Tuesday, September 1, 2015

No snow to try them out but I own a 36" pair of Redfeather snowshoes, which I have had for 10 years or more, still in great shape. Have shed a few lbs. over the years so want to try a smaller pair. Seem to be built just as good as the older pair. Did come in red but that is not a problem to me. I find the bindings on Redfeather to be some of the best and easiest to use. Never had a problem with the 36" and see no reason to have a problem with the 30".

Verified Buyer

Reviewed by Susie Q from Wisconsin on Thursday, January 15, 2015

Bought these for my husband for christmas. They are of great quality and have been used several times already.

Verified Buyer

Reviewed by HM from Utah on Friday, January 2, 2015

I got mine for less than the brand that was selling at Costco. Can't wait to take them out for a spin.

Reviewed by markdouglas from Upstate NY on Wednesday, November 19, 2014

I purchased these for a Christmas present so they haven't been used but I wanted to comment that I didn't get what is pictured. I think this is the first time this has happened in years of doing business with STP. Instead of an aluminum color on the frame it's fire engine red. That was quite a surprise when I opened them! Also, the label on the back of the right shoe is different. They are for a beginner so I won't bother sending them back. (I hope he likes red) I'll attach some pictures if they upload.

Verified Buyer

Reviewed by Cally the hiker from Wyoming on Thursday, May 8, 2014

I purchased these snowshoes for my brother, who wears a size 15 shoe. It was our first time, snowshoeing, in some fairly remote terrain in Wyoming.

The snow was about 4' deep. The first day it was fairly slushy.

My brother was quite pleased with how well the snowshoes fit, and carried his large 6'6" frame.

Reviewed by Quality bargain shopper from Spring Lake, MI on Wednesday, January 29, 2014

This is our first pair of showshoes and we are very happy with them! They are great quality, have a hinged foot and have the front claw to prevent slipping. They have been working great for flat paths, as well as steep, icy hills.
This pair was for my husband - size 30. He is 185 and 6ft tall. The weight was up to 210lb for this pair, I believe.
The reviews did help us choose these and we are very happy. These appear to be more narrow than other snow shoes and we love that - we would not want them to be any wider. They are perfect for skinny trails and going through very wooded areas.


Reviewed by Josh from Chicago on Thursday, January 23, 2014

These are very nice snowshoes. The straps work well even with very large boots, and they are comfortable to walk in. We have used them on gentle slopes and snowy bike paths. We now have a great reason to go out after a snow!

Reviewed by otofog from mi on Monday, January 13, 2014

Have had them only two weeks and worn them once to rake snow off the roof of the big house. Very light. Bought them to get around at the little house which gets much more snow. Kind of hard to tighten the heel strap but will get used to it.

Reviewed by Pam the Gardener from Maine on Friday, December 27, 2013

These were a gift for my daughter for Christmas and she loves them. We are some of the lucky ones who were hit with heavy snow and then the Christmas week ice storm of 2013 but it didn't deter her from using her snowshoes! I think she will have may great snow hikes this winter.