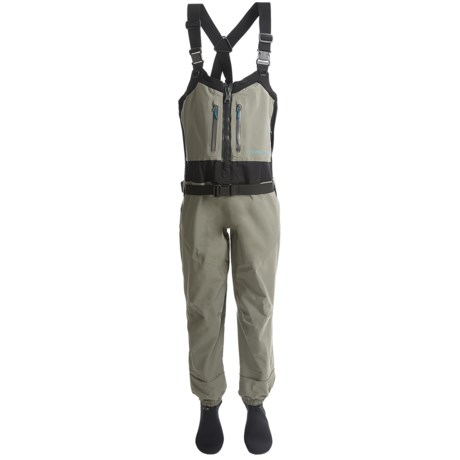 I'm pleased! Great waders although the sizing might be a little bit off.
Reviewed by Roadbase from Utah on Thursday, May 14, 2015
I am brand new to fly fishing so I wanted to find a pair of waders that was nice but not too expensive. With shipping and tax, minus a rebate and a big STP coupon, the price of these normally expensive waders became affordable for me. That said, I haven't had a chance to test them out in an actual river so I'll have to update this in the future.

That said, they seem really well made and they're definitely light. I like the front zipper although it's more stiff than I expected. That's probably good, though, since we want it to be water proof. And it definitely makes it easier to get in and out of these.

I love the stretchy band around the top and the big arm holes -- the combination will make for a lot of upper body movement and they also don't gape out around and away from my body.

These have a total of 4 pockets -- one pair on the front which claim to be waterproof and a pair behind those that zip closed (water resistant, I think) and have one side lined with micro fleece. I don't know why they didn't put the fleece on the side closest to your body but maybe it was in an effort to keep them breathable. Anyways, I was hoping to have a pocket inside the waders too but it doesn't really work with this design.

The fit is okay. I am not a small person -- about 5'9" and at my heaviest (like, now), I'm about 190 or 200. I have hips. I have long legs, a long torso, and narrow feet. Anyways, I hunted high and low to find a size chart for these because they're a few seasons old. I found one that had more numbers than the usual "size", "inseam", and "foot size". Here's where I found it:

http://flyfishingv.com/gear/2012/11/15/first-impressions-redington-womens-sonic-pro-zip-front-waders-fit/

I took my measurements (16, 43, 46, 33, 8.5-9) and judged that I needed an extra large. The only size I was a little worried about was the inseam. However, I've received them and I have to say that they feel a little tight around my hips. I don't know if this is the size of my hips or actually a result of needing a longer inseam. Why there's no XL tall, I have no idea! Anyways, these definitely fit more like jeans than huge men's waders but it's only an issue when I'm at a full bend-over or deep, deep lunge and my fishing doesn't require that kind of activity yet.

Like I said, I can't tell if they aren't big enough around or if they're just a little too short. I do know that they came with the suspenders all the way loosened and I feel like if there were 2 or 3 inches for me to play with, these would be less binding so maybe a slightly longer inseam would help too?

My plan is, at this price, to keep them and use them a few times -- I'm not at the point of stressing the seams too much, they're just a little snug. I think if I could lose about 10 pounds, these would fit a lot better. If it doesn't improve, I'll just sell them used and someone will get a great deal like me!

The belt is low, across my hips instead of at my waist. Personally, I like the look and feel of it but it's definitely different than other waders out there.

The boots are, as always with waders, WAY too big. I often wear a size 9 street shoe and I'm swimming in these. Not as bad as with men's waders, but still pretty big. It'll be good, though, if I wear thick, comfy socks because I'll still have a lot of room for circulation.

I'd like to mention that the suspender clips are reversed, so you can pop the suspenders off and clip them together around your waist if you get too hot for the top part of the waders.

Finally, they came with a little patch of fabric for repairs but everything I've heard about these is that they are pretty beefy.

I'm not sure what else you'd need to know about waders; these are definitely more flattering and less bulky on a woman than on a man and I appreciated the very detailed and differing sizes. I'll respond to questions if you have them.

Really excited to get these out on the river!!
Most helpful negative reviews
Similar items and more information in the following areas: