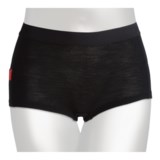 Discontinued. Wear the moisture-wicking, breathable and odor-resistant merino wool RedRam by Icebreaker boy shorts on a long backpacking trip or travel day for long-lasting comfort and freshness.
Average Rating based on
30
reviews
3.800000
0
5
Reviewed by Jean - Get out and play from Alaska on Tuesday, June 10, 2014

I purchased these last month for comfy outdoor activity underwear. They have been perfect for hiking, biking and camping. I have yet to get them out boating and x-country skiing but I know they will be great for that too.

I wish there were mediums available, as I should actually wear that size, but since I like a looser fit for my outdoor activities these are just fine.
I am 5'6" and 150 lbs. They have a pretty modest cut to them which I like.

Regarding other comments I've seen on this item:
- The waistband is 1-3/16", not 2". For some this might be too wide, but I like it - no matter how I move it never feels like it cuts or binds at all, like a comfy pair of shorts.
- They do loosen up a bit during the day, but I expect that in a product that does not have spandex or any other 'elasticity' product woven into the fabric - I'll go for the comfort of a natural material any day.




Verified Buyer

Reviewed by stephanie the cyclist from seattle on Tuesday, May 13, 2014

i am really searching for the perfect pair of wool boy shorts, and these only came in large so I thought i'd give them a chance. I'm between a medium and large (small waist, wider butt and legs). These actually fit perfectly around the waist but are pretty baggy around the butt so they tend to roll up. I wish they were longer so they wouldn't sit right at the widest part of my buns, rather a little farther down. medium might fit better on me, but they're out of stock.

also, there are three tags on these. one on the hip, one on the rear, and one on the inside! crazy.

Reviewed by susie w. from shoreline, WA on Thursday, March 20, 2014

I love the comfort of these warm and form fitting 'shorts'. I wear them to yoga. !

Reviewed by Maya from Portland on Tuesday, March 11, 2014

I have loved my previous icebreaker panties and so bought these thinking they would be the same but they are not. Original purchase had very narrow waist band these have a wide maybe 2" Elastic waist band. Ugh Panty lines and pressure points. Still they are fine quality wool and good workmanship. I can't figure out why they would put such a wide band on.

Reviewed by LikeToHike from Boston, MA on Wednesday, February 26, 2014

Very comfy undies. However the proportions of the fit is a little off - the elastic is a bit snug and the fabric is a bit looser than I would expect. Overall though, quite comfortable.

Reviewed by Carson from Pacific NW on Friday, February 21, 2014

I love everything I own from Icebreaker, and these are no exception!
They don't ride up, they wick beautifully, and they're definitely thin enough that they're comfortable under tight jeans. I ordered three more pairs, and I'll be throwing away all my cotton undies!

Reviewed by anonymous from NYC on Monday, February 10, 2014

very comfortable & great for this weather

Reviewed by Christina the Nomad from San Diego on Sunday, February 9, 2014

They are exactly what the description says... boy shorts- nothing fancy but they did the trick during my trek to EBC. No ride up, soft and comfy, and surprisingly kept me warm. Don't expect anything sexy... just boy shorts. HAHA... I bought a few pairs, some were longer than others. I'd recommend them for active events... but not for sexy time. ;)

Reviewed by outdoor senior from Rochester, NY on Saturday, February 8, 2014

love the fabric & style but during first wearing (one day only) the legs lost snugness & crotch became saggy - bought for Utah ski trip (3 pair) for good price so have not bothered to return - never had any problem with Red Ram tops but would NOT buy panties ever again - Ibex does a good job but you pay for it!

Reviewed by Jenny from The Midwest on Sunday, February 2, 2014

These undies are soft and fairly comfortable. I am currently 157lbs, 5'5" with a curvy build, small waist and saddlebags. I bought Large. The waistband is very tight for the size. The leg openings are kind of loose. They almost feel like super short shorts to me. I like wearing them, but not with all types of clothing since they can make a bumpy line and show through clothing, kind of like mens boxer briefs. Maybe once I lose more weight this style will work better for me. I'll wear the pair I have since I love merino anything, but I probably won't buy any more.