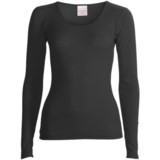 Discontinued. Made of Icebreaker 100% merino wool, this RedRam base layer top is amazingly soft next to skin, very warm and highly breathable.
Average Rating based on
125
reviews
4.320000
0
5
Reviewed by missjulietoyou from Cleveland on Thursday, December 19, 2013

The top itself was fine, but the color, which I expected to be a deep brick/terra cotta color, was hot pink. I returned it.

Reviewed by Bluebird from KY on Friday, December 6, 2013

I have worn this hundreds of times, and it is still wearing strong. Wear it as an underlayer, and love the thinness and the warmth. Sleep in it, too! Love, love, love merino, and RedRam is a nice less expensive way to wear it!@

Reviewed by ISP from Chicago, IL on Saturday, November 16, 2013

Great addition to my wardrobe. I have it in black too. I wear these tops under sweaters, by themselves and even with business suits. it is a little see through so plan for proper under garments when wearing on its own.

Reviewed by Cosy Feet from Minnesota on Friday, November 8, 2013

If I had only tried this, I probably would have kept it. But I also ordered an Icebreaker and was happier with that. This has a slightly higher neckline that didn't hide under all of my shirts. It was also not as soft and itch-free as the Icebreaker Bodyfit 200.

Reviewed by Jane from Acme on Wednesday, November 6, 2013

Good craftsmanship, nice color, but the minute I put it on it made my skin crawl. If you are at all sensitive to wool, do not believe their claim that this will not feel incredibly scratchy on your sensitive skin

Reviewed by elkabelka from Boulder, CO on Sunday, November 3, 2013

I own a ton of Icebreaker stuff. I sent this one back because it just felt "cheaper" and I was worried it would not last. Otherwise it was nice and great fitting. Just the quality did not feel right.

Reviewed by BahamaWynters from Oregon on Tuesday, October 29, 2013

This is great for me and anyone who does not like the whistling winds of autumn and winter bearing down upon them. I grew up in an area with wind-chill factors through most of winter so our fortitude for getting to school, getting to work was dependent upon how many warm layers one could survive. Oh, if we only had RedRam back then. Yet, now, I do.

Lightweight, gentle on the skin, confident. Yes, you need confidence when the cold weather prevails. It easily 'airs out' after a day's wear yet is easy to wash in the sink and hang to dry in the shower (unless it is really cold). I used to rely on angora under garments.

RedRam is much better.

Reviewed by Nancy from Leadville, Colorado on Saturday, October 26, 2013

I really like this shirt. Bought the bright and very loud green which is fun to wear. It is a good shirt, but not quite as good as the SmartWool shirt I bought at the same time, but still it is a great buy.

Reviewed by Krista from Portland on Wednesday, October 23, 2013

This is a fabulous top! I'll be wearing it both as my base layer for skiing and around town as a casual tshirt. The styling is great, the fit runs a tad small (I normally wear Small, but ordered Medium in this and it's perfect; if you wanted it skintight, then order your regular size).

The color is a nice, bright cherry (no orange tones) and it is true when they say it's not scratchy. Plus, you get all the wonderful anti-microbial properties of wool (translation: it won't stink, even after several days!). I ordered the Sprite sportsbra directly from Icebreaker to go with this and it's a great combo--no more stinky polyesters that make my skin crawl after a day in them.


Reviewed by LBel from New York on Thursday, October 10, 2013

warm and lightweight to fit snugly under clothing. I ordered three similar merino wool base layer tops and I am wearing them everyday to work, where the temperature is kept rather cold!