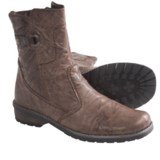 Closeouts. A combination of wrinkled leather and piecey stitching give Remonte Dorndorf's Lea boots a more rugged disposition than the average pair of short boots. Plush lining and a shock-absorbing insole round out the comfort features inside.
Average Rating based on
7
reviews
4.000000
0
5
Verified Buyer

Reviewed by Maggie from Minnesota on Monday, October 5, 2015

Out of the box, they are like your old favorite boots. Fit beautifully. Look cool.

Verified Buyer

Reviewed by Diane from Colorado on Sunday, September 7, 2014

These are so comfortable, easy to get on and off, and stylish. I bought two more pairs right away. They do tend to stretch a bit, so I am wearing heavier socks with them. Highly recommended.

Verified Buyer

Reviewed by Fresca from New England on Thursday, August 21, 2014

These boots are definitely big on the cute factor, but I did not find them comfortable at all, and the pair I received were so very poorly made that I had to return them.

The leather appears to be what is known as "bonded leather" (a product made from leather fiber scraps and glue that are bonded onto a fabric under layer for support then stamped with a textured pattern to resemble "true" leather) and I felt that should have been clearly stated in the description of the product. One of the boots in the pair I received was already falling apart. The sewn seams were coming out by the zipper and the "bonded leather" was already tearing away from the fabric under layer. In my opinion "bonded leather" is NOT true leather in terms of durability and if the product is made from such a material it should be duly noted as such so buyers can make an informed decision.

On the photos, it looks like the leather uppers have been sewn onto the rubber soles, but it is just rubber molding on the soles made to look like stitching — this was another disappointment to me and another concern I have about quality issues.

The much touted "comfort innersoles" were microscopically thin, had no arch support at all and did nothing to cushion my foot. My previous experience with Reiker Anti-Stress insoles was very positive, so I was again disappointed by this.

All in all, a real disappointment for the price and for this brand — I was truly surprised by the poor quality of this adorable boot since Reiker has a reputation for creating much better footwear!

On the positive side — and the reason I gave them two stars instead of just one star; they ARE totally cute and the inside of the boot is lined with a short-nap plush material that feels good on your foot. Unfortunately, that only lasts until you take a step in them and realize how hard the bottom of the boot is against your foot.

My experience with this particular pair of boots makes me wonder if Reiker has developed the Remonte Dorndorf line as "lower cost production" footwear while still hoping to charge relatively high prices for a product that bears the Reiker name and suggests the Reiker reputation for high quality and comfort. If so, I am, once again, truly disappointed!

Reviewed by Fresca from New England on Saturday, August 9, 2014

I am really sooo disappointed by these boots. While the look is definitely stylish, the quality, comfort and fit are severely lacking and NOT what I am accustomed to in Reiker boots — nor for a pair of boots that cost $70 with shipping!

First, the "leather" upper is questionable. It is extremely thin and the edges have a papery feel to them, so I suspect it may be what is sometimes called "bonded" leather. Wikiepedia defines "bonded leather" as the following, "also called reconstituted leather or blended leather, a term used for a man-made lower-cost upholstery and footwear material made as a layered structure of a fiber or paper backer, a pulp made from shredded leather, and a polyurethane coating which is embossed with a leather-like texture" and that is EXACTLY what these look and feel like. I think it is misleading to state that the uppers are "Leather" when they probably are not... I don't know how well "bonded leather" holds up to heavy wear, but these don't look promising.

Second, The zipper on the left boot is hard to zip because some the "bonded leather" papery edges seem to have shredded out beyond the stitching and get caught in the zipper — this probably can be fixed with a pair of scissors and dab of glue, but that should not be required for a brand new pair of $70 boots.

Third, the "comfort sole system" is totally unimpressive. The insole is extremely thin, not very cushy and lacks any arch support at all. Again, I feel there is some misleading advertising here when one compares this to the quality of other Reiker "comfort" boots with special insole systems that really ARE "comfort insoles".

Fourth, I think the fit runs a bit large and very wide for the usual European 37. The heels of these boots are so wide my heel slips right out, despite the fact that I added my own insoles and put on a pair of heavy socks.

Fifth, the sole is not truly stitched on as it appears in the photo — the entire sole is a soft rubberish material and the "stitches" are molded into it. The boot actually appears to be "glued" to the sole.

So, the pluses are that the boot is really a cute style and looks good when wearing with jeans, leggings or even a skirt if you don't mind a little "Indy" look and the inner lining is a thin, but nice, polyester pile with short nap so the boots feel good on my feet. These boots are also very light weight and flexible, yet retain that sort of "rugged" look, which is nice for comfort and if you are packing them for a trip.

However, the minuses, all listed above, far outweigh the pluses, so back they go and I will be much more circumspect in future purchases of shoes from Reiker. My experience with these boots makes me wonder if the Reiker Remonte Dorndorf brand is a way to try to sell cheaply made footwear to the public at the high prices quality Reiker shoes have commanded in the past.

Reviewed by Alex46 from Virginia on Tuesday, February 11, 2014

This is my 2nd pair of Remonte boots and both are equally comfortable and attractive. I have a narrow foot -- with an extra pair of socks or with footies over tights, they fit very nicely. And the lower heel makes for easy walking and for wearing all day.

Reviewed by Grace from Illinois on Sunday, December 15, 2013

These boots have a soft lining for comfort inside. The boots are not dressy but nice for everyday use. I would have given the boots a 5 star but the soles do leave black marks on the floor and heel slips a little. I like them because they have a rustic European look. Boots look good with jeans

Reviewed by Candiegirly from Brookside Missouri on Wednesday, November 13, 2013

These boots are the perfect height to roll my jeans above or wear with leggings. They are sooooo very comfortable!