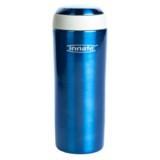 Closeouts. Ideal for short commutes and outings, the Innate Commercial Drive vacuum bottle keeps beverages warm for up to 6 hours inside 18/8 double-wall stainless steel.
Average Rating based on
5
reviews
4.200000
0
5
Reviewed by Grace from NYC on Saturday, February 27, 2016

This review revises my previous one here. I love the size, shape and intense colors of this so much that I ordered a second one. This one came in a box with pictures of how to find the mini cup. The wide rubber seal and the small dome above it can be screwed apart. The top part has the cup. But it holds about 1/4 cup. Don't bother. (STP: post a pic of the two-part top!)

I only use these for cold beverages -- the perfect size for a breakfast smoothy -- and keeps it chilled. It's difficult to find a double-walled vacuum bottle that is modest size like this, so I'm glad to have two.

Verified Buyer

Reviewed by Grace from NYC on Tuesday, January 5, 2016

Even when I had this in my hand I couldn't figure out what STP means by a sipping cup. I guess they mean the narrow channel around the top's stopper can be used to sip from. ? And the soft plastic band around it won't get hot to burn lips? This is a stretch, as to pour 1/4 cup into the channel to then drink is a waste of time. Whatever, it's a sturdy moderate size thermos when you don't want to carry around a bigger, heavier bottle, a beautiful gleaming cylinder.

Verified Buyer

Reviewed by Ski the East from MA on Wednesday, December 16, 2015

Fits well in your hand, keeps coffee or tea warm for hours. No leaks if the cap is on, so you don't have to worry if you knock into it. This is not a travel mug in the usual sense; you can't sip the coffee through the lid. You have to unscrew the cap and take it off to drink. The sipper cap they refer to is that you can unscrew the metal part of the lid and pour a little liquid into the plastic part underneath to sip out of. Not a very useful feature. But, if you like to have a hot drink at your desk to sip out of all morning or afternoon, this is perfect. Just put the top on and it stays hot for hours. Nice look and feel. Bought a couple more to use at home.

Verified Buyer

Reviewed by NW state from Seattle on Saturday, December 12, 2015

The bottle did not has it's own box. It came in a plastic bag inside a box with other items I ordered. The box was not well packed. As a result, the round piece of metal in the bottom fell off. I called STP to let them know, but did not want to return it since it is not worth the effort. I used it for coffee. After 2 hours, the coffee is warm, not hot. I am not sure if it is because of not having the bottom cover and it is not well insulated????

Verified Buyer

Reviewed by Reed from North Carolina on Tuesday, November 24, 2015

This keeps my tea warm, doesn't leak, is easy to clean out, and takes little room in a purse compared with a thermos. It has some negatives.The screw-top is difficult to grip and turn (certainly not something you can do with mittens or knitted gloves). I couldn't figure out the sippy-cup inside the top. If I remove the silicone seal, which I imagine you have to do to get the cup part to fill up when tipped, it didn't fill up. But, oddly, when I screwed the top back on, it leaked. So I replaced the silicone seal and will use this just as a container and drink from the beaker, and forget about the sippy cup feature.