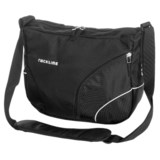 Closeouts. The Ortlieb Racktime Shoulderit front bike bag attaches easily to your handlebars and carries comfortably as a compact shoulder bag when you've reached your destination.
Average Rating based on
6
reviews
4.166666
0
5
Verified Buyer

Reviewed by Ren & Stimpy Ankle Guy from Puget Sound on Thursday, May 11, 2017

As I hoped this is large enough to hold a medium sized laptop ( and not a lot else ). The foam in the sides make it great for this. It has a lot of internal pockets, some zippered, to hold accessories, and one external zippered pocket. The shoulder strap is sewn into the bag -- it will always be there when you're pedaling. Not at all built like a common handlebar bag to be accessed while pedaling or standing over the bike. Zipper on top is not waterproof -- overall would keep a laptop safe for only a short ride in a moderate rain. For the price though, worth it for the handlebar mount alone.

Verified Buyer

Reviewed by Carlota from Florida and Maine on Sunday, April 9, 2017

This is the best handlebar bag for me. So glad to have this one. I have short legs and find it too awkward to have a rear back for day trips and commuting. This bag is so big I can carry a few work items, raincoat, lunch, wallet, phone, headlamp and more. Really appreciated the review by the woman who gave hers to her spouse. Made me careful mounting it. It IS bigger than most front bike bags.

Reviewed by BrianW from Philadelphia, Pa. on Thursday, June 9, 2016

This is really an around-town shoulder bag that happens to attach to a standard Ortlieb handlebar mount. If that's what you want, then you'll like this bag. If you want to use it as a mostly bike-based bag, then look at another model. The bag itself is nicely made, well organized, and does not look like your typical "bike bag." But it is large, much larger than most handlebar bags, and as such takes up a lot of handlebar real estate. I wouldn't use it for touring or bike-only use, but for commuting, around-town use, and the like (which is what I believe it's designed for) I think it would be an excellent choice. At STP's current price, it's an absolute steal. The Ortlieb bar mount alone costs more than this bag with the mount included.

Verified Buyer

Reviewed by thaican from Ottawa, Canada on Friday, May 13, 2016

The bag is excellent. I wish there was an alternative to UPS for shipping to Canada, like USPS.
UPS charge "brokerage fees" on top of customs duty and taxes, which don't occur with alternatives. Also if you aren't home when they deliver, they take the package back and you end up driving to their depot to pick it up.

Reviewed by Philly Gardener from PA on Monday, December 28, 2015

I have to amend my previous review - I still feel that the bag was a bit too big for my bike handlebars. But my husband is using it every day now for his bike commute to work and he loves it. I wrote in my previous review that the attachment mechanism on the handlebars kept slipping (there is a plastic attachment piece that goes onto the handlebar via a cable). But my husband took it all off, followed the directions more closely to wrap the cable around and through the plastic piece and handlebars, and now he says there are no issues with slippage. The bag stays put. And did I mention that the bag itself is SUPER nice?

Verified Buyer

Reviewed by Philly Gardener from PA on Wednesday, December 16, 2015

I bought this for my bike, but it turned out to be too big. I have a road bike, and it just squeezed in between the handlebars. My shifters are on that curved part of the handlebar, and I thought it would make it more difficult to use the shifters. I was all ready to return it. My husband bike to work every day, and when he saw the bag, he wanted to try it. He is almost a foot taller than me, and his bike frame is quite a bit bigger too. The bag fit fine on his bike and he likes it a lot. The bag itself is VERY nice - high quality, and lots of compartments for your stuff. My husband did tell me that the attachment mechanism that goes on the handlebars slides down, no matter how tight you try to make it. So that the bottom of the bag is sort of resting on his brake cables. Probably not a big problem, but not great either. Overall the bag is nice, but not perfect.