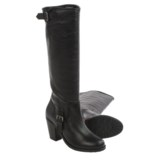 Closeouts. Sleek and statuesque, shapely and sophisticated: no matter how you define them, Ariat's Gold Coast boots -- outfitted with a rich, polished leather and sporting a western-equestrian vibe -- are sure to dazzle up your day.
Average Rating based on
12
reviews
4.666666
0
5
Verified Buyer

Reviewed by GrammyPA from PA on Tuesday, August 16, 2016

These boots are really rich looking.....the color is brownish/with a hint of maroon....leather is very nice. I usually wear a 5 1/2 to 6 in a boot and these fit perfect. The heel is just about perfect for me at 3" ..the height of the boot from the very bottom (floor) of the heel to my knee is 17 1/2" (I am 4'10"). From the bottom of my heel to the beginning of my knee is 17" (the boot does not restrict movement of my knee) .I had no problem putting them on ..........what I really love about this boot is the at the top/side of the boot, there is a buckle which will open a space (2 ")and allow you to stuff your pant legs into the shaft of the boot....to me that makes the boot.

Verified Buyer

Reviewed by Jeri-Anne from Montana on Tuesday, August 16, 2016

These boots are GORGEOUS! I was so excited when they arrived-I have 6-8 pairs of Ariat boots, and always wear the same size, so I was a bit disappointed when I put them on and they were narrow. I wore them for an hour or so, and they still felt tight, even with my thinnest socks, so I am taking them to a shoe guy who said he can stretch the width, and if they still don't work, Happy Birthday to my sister with smaller feet!! They really are just beautiful boots, and I hope they will work out for me!

Verified Buyer

Reviewed by Sunnypdx from Portland on Thursday, July 7, 2016

Love these. Fit well. Beautiful leather and color.

Reviewed by Desert Scrambler from NV and CA deserts on Monday, June 27, 2016

I adore Ariat riding boots! I had one of their very first dressage boots and then several paddock boots. These unfortunately had to be returned.

First, the longest part of the toe is too close to the center and bends the big toe inward, so if you don't already have bunions you might after spending time in these (somewhat exaggerating but not much). Second, a large oval piece of leather with a hard ridge all around is sewn into the insole at the heel. I found it mildly irritating the bottom of my heel in medium weight socks.

They felt pretty nice otherwise, were easy to pull on and off a medium sized leg, and felt secure on the foot.
The leather quality and finish is OK, not a fine leather product but better than some.
They do look nice- nice styling and sturdily made.
A great buy on sale if they fit you.

Verified Buyer

Reviewed by melly from roanoke va on Thursday, April 21, 2016

They are narrow and do run true to size or maybe a bit small but I love these. Great purchase price!!

Reviewed by Linda from PA on Tuesday, April 19, 2016

I just received these boots and must say I am pleasantly surprised. I was concerned about no zipper, but they went on with no problem. I did order half a size up and am glad I did. The heel is higher than I normally wear, but while walking around the house, I found them not to be an issue at all. They really don't feel that high nor do they stress my ankles. The leather is very supple and soft... my favorite kind!! I wish, wish, wish they had my size in the black because that was my initial color choice. I purchased the burgundy boot and the color is subtle and beautiful.

Verified Buyer

Reviewed by Jane from Leesburg VA on Thursday, April 7, 2016

These are nice and I'll probably keep them. In spite of the heel height, they're comfortable (with a thin sock -- otherwise I felt a slight rubbing on the right foot). I think they'll break in nicely and last a long time. Well made. Price was right.

Verified Buyer

Reviewed by Mtnma from California on Thursday, March 31, 2016

These are really nice boots but too hard to put on and take off with no zipper.

Verified Buyer

Reviewed by kls from Wisconsin on Tuesday, February 9, 2016

Such high quality at an unbelievable price! The moment I opened the box I knew that I had hit the jackpot with these boots. The soft, supple leather and the simple yet elegant style were exactly what I was hoping for. Even with the moderate heel these boots are extremely comfortable. I am truly impressed.

Reviewed by Country Diva from Sunny Florida on Monday, January 18, 2016

I feel so fortunate to get these boots at such a reasonable price!! I was reluctant to purchase them because they don't have a side zipper, but because I loved the style and STP's return policy is so great, I took the plunge and ordered. Y'all - don't hesitate like I did. The moment I opened the box and the aroma of supple leather filled the room, I was smiling. Then, when I saw the boots - woah...beautiful black, full grain leather, not too soft and not too stiff...just right! They slipped on easily - fit comfortably and looked amazing! Walking around in them was a breeze...the heel is a great height and these can easily be dressed up or down. There is room for skinny jeans, jeggings or leggings, with a slightly relaxed fit at the ankle and oh sooo comfy! Then, the moment of truth...was I going to be able to get them off? Without help?!? Hubby is at the hunting camp and I really didn't want to be stuck in these boots for the next 2 days!! I'm happy to say they were so easy to get off...not a problem whatsoever!! Why did I hesitate...I could have purchased these boots LAST year! I missed a whole season of amazing boots. I'm sure glad I got on board. Now I'm back to see what other colors they come in!! Oh - and I wear an 8.5 or 9...I ordered the 9 and they're perfect, with room for tights, socks or both. Ariat is top drawer in my book, and these boots are no exception!