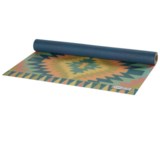 Closeouts. Lightweight, slip resistant and ultra thin, prAna's Belize Printed Xtra Lite yoga mat is perfect for yoga enthusiasts on the go.
Average Rating based on
8
reviews
3.375000
0
5
Reviewed by Maya from Ukraine on Wednesday, June 22, 2016

The best mat especially for travelling! Really great cusion!

Verified Buyer

Reviewed by Fayezee from NY on Monday, May 16, 2016

Not sticky and VERY thin, Disappointed :(

Verified Buyer

Reviewed by REN from New Hampshire on Friday, April 8, 2016

So think it was as if you were sitting on the floor. Pattern was pretty but a lot more dull than picture online.

Verified Buyer

Reviewed by Ailene from Wyoming on Tuesday, March 29, 2016

It is really lovely and we'll made. It is really think but wanted it for yoga over carpet so perfect for me. I also plan to use it other times as a outdoor furniture cover love things I can use different ways.

Verified Buyer

Reviewed by BridgeSite from Tahoe on Tuesday, March 22, 2016

Smell like the inside of a tire shop. Very thin - need to set over another mat if on hard surface.

Verified Buyer

Reviewed by belize from oakland, ca on Monday, March 7, 2016

I have two mats at home, which though not called "lite" actually weigh less than this one, but I guess "lite" refers to thinness and portability. Were I going somewhere where I needed to pack a small bag, I'd take this mat; it rolls thin or folds easily. If I were riding my bike to class, I might bring my older, cushier ones (Prana ECO--also great, for an affordable price.) I only do Iyengar yoga, nothing hot or sweaty. (Sweating is part of why I ride, hike, snowshoe, run...Yoga is for stillness, and some stretching and strengthening in areas that complement my other activities.) So, no real issues with mat getting wet or slippery. This one doesn't bunch up, seems to keep everything in place (including my hands and feet of course), and is fine for most poses where I don't need much padding. I usually use studio mats (no sweating so they feel clean enough for me) and this mat will work for home practice or if I go to an unfamiliar studio. So far I'm using it at home when practice is more standing poses or restorative. If I think I need more for my knees or something, I'll grab my 5 mm mat or blanket (3mm is actually ideal but I can't find a mat like that anymore.) I admit part of why I got this one is for the beautiful colors and pattern--I've never had a patterned mat before! And also because I've been to Belize, liked it so much I gave my cat that name. (My weakness for anything called "Belize" has also resulted in me buying new face powder, new eyeshadow, and new bronzer, none of which I really need. If someone starts marketing a "Belize" cookie or "Belize" cheese, I'll really be in trouble!)

Verified Buyer

Reviewed by Hoosier Hiker from Indiana on Monday, February 29, 2016

Great thin non-slip mat. Colors were perfect nice and soft not to bright

Verified Buyer

Reviewed by Columbus Dogs from Ohio on Friday, February 12, 2016

The thinness is great for travel but not so kind to your knee in low lunges. Bring a blanket. The biggest problem is that the colors bleed onto your hands and skin. I'm planning on wiping it down a few times with soap and water, hoping it will seal the colors in better.