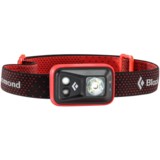 Closeouts. The compact, lightweight Black Diamond Equipment Spot headlamp offers a high-intensity one-watt LED that casts a strong directional beam up to 70m. The adjustable beam produces up to 200 lumens of bright light.
Average Rating based on
141
reviews
4.595744
0
5
Verified Buyer

Reviewed by ClearWaterAwaits from Arkansas on Tuesday, December 19, 2017

Bought this for my dad. His last headlamp corroded (different brand) and he really wanted a new one. I like the tilt function, the light is extremely bright, and it's comfortable on your head. I've used Black Diamond headlamps for years and absolutely think they are the best brand out there.

Verified Buyer

Reviewed by Carolyn from California on Monday, December 11, 2017

This is my first headlamp so I was a little confused as to how to work it. . .I googled and watched a video which helped alot. I am really happy with my purchase.

Verified Buyer

Reviewed by Spring Creek Hiker from Spring Creek, Nevada on Thursday, August 17, 2017

I lost my other black diamond headlamp and replaced it with this one because I loved my other one so much. I'm not disappointed. This one rocks as well.

Reviewed by B from Ohio on Thursday, March 19, 2015

I really like this headlight and I use it all of the time. It has a variety of settings including a red light mode, and I love that you can adjust the brightness of any of the settings by simply holding down the button.

Verified Buyer

Reviewed by Perx from New Hampshire on Wednesday, October 1, 2014

Love the ability to adjust the brightness on this lamp. I use it when I'm out bicycling at night, camping, plumbing, whatever, and it's a little champ about it.

Verified Buyer

Reviewed by kamui from USA on Tuesday, September 23, 2014

The bright mode is really bright, the dim mode is perfect when you don't want to blind people. It's also very comfortable and light. The notched latch to lower the lamp worked great too, some of my friend had ones that couldn't be angled downwards, so it was a huge advantage having this.

The cons, it's not so easy to switch between the regular mode and the red lights, it requires doing long presses. The red light is super dim, even the cheaper Energizer models had a strong red light mode.

Verified Buyer

Reviewed by happy camper from California on Monday, September 22, 2014

Great for camping or when riding bike at night or when power goes out.

Verified Buyer

Reviewed by Road Walker from Marin County on Friday, September 12, 2014

This headlamp has a strong spot, which I love. It also offers a weaker light, if one doesn't need all the light of a spot. A vast improvement over the prior headlamps I have had, which only provided the weak light.

Verified Buyer

Reviewed by mofo83 from Seattle on Thursday, September 11, 2014

I have had the Black Diamond Gizmo for awhile, which I thought was a nice basic budget headlamp.

Then I got the Black Diamond Spot, which wasn't that much more expensive when bought from Sierra.

Holy wow... I compared the two and almost felt bad for the Gizmo. The Spot seems to be about 100 times brighter, and it's not that much bigger or heavier.

Plus, it has a ton of great bonus features: battery indicator, two white-light modes (beam and close-up light) which are both dimmable, plus a flashing strobe setting and a red-light mode.

The headband is also a little thicker, and is very easy to adjust and is comfortable and feels secure.

It also looks nice, which of course doesn't really matter but, hey, it's better than it being super ugly.

I would HIGHLY recommend this headlamp - especially if you're considering a real cheapo one. Just spend an extra $10 and you'll be VERY happy you did.

Verified Buyer

Reviewed by Wilbur walker from Boulder, CO on Wednesday, September 10, 2014

Love the continuous dimming feature. Only drawbacks are that there are so many possible lighting adjustments that controlling them is no longer intuitive (have to read the instructions and even practice at home) and that the pivot mechanism seems somewhat cheap.