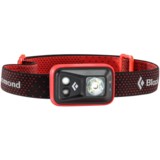 Closeouts. The compact, lightweight Black Diamond Equipment Spot headlamp offers a high-intensity one-watt LED that casts a strong directional beam up to 70m. The adjustable beam produces up to 200 lumens of bright light.
Average Rating based on
147
reviews
4.612244
0
5
Verified Buyer

Reviewed by J. Smith from Denver on Wednesday, May 30, 2018

Bright, dim, adjustable white and red light. What else could I ask for?

Verified Buyer

Reviewed by JUAN PABLO from Mexico on Wednesday, May 30, 2018

La lampara es muy cómoda, no es pesada y es muy fácil de ajustar en cuanto a intensidad de la luz. Ampliamente recomendable.

Verified Buyer

Reviewed by jay from Michigan on Friday, May 4, 2018

I love Black Diamond and this light is fantastic! Lightweight and super bright!

Reviewed by Russ the Marathon/Ultra Runner from Billings, Montana on Friday, April 13, 2018

I am a headlamp connoisseur and this is my favorite of all time. I use mine primarily to run in the early morning hours, but have also used this to run an ultra mountain race and it performed marvelously. The light is super bright, especially for the price, and the batteries last a long time while still putting off a bright beam. Features I love: Tapping the side of the headlamp turns on or off the 2nd light, so you can either go with the bright spotlight or the not-so-bright light solo, or use both together. You can also dim the lights to consume less power. Or, switch it up and only use the red light by itself. You can also lock the power button so it won't accidentally turn on during transport and wear out the batteries. Great headlamp, buy 2 at this price!

Reviewed by Jack from Florida on Thursday, February 22, 2018

I love mine. Its heavy but it'll last a week. Its bright and 4 AAA batteries give it that power for lighting up everything in the area.

Verified Buyer

Reviewed by Mimi from New Mexico on Saturday, February 17, 2018

It's much brighter than any of my other headlamps. I'm hoping to test it out on an evening bike ride this week, it's that bright.

Verified Buyer

Reviewed by ClearWaterAwaits from Arkansas on Tuesday, December 19, 2017

Bought this for my dad. His last headlamp corroded (different brand) and he really wanted a new one. I like the tilt function, the light is extremely bright, and it's comfortable on your head. I've used Black Diamond headlamps for years and absolutely think they are the best brand out there.

Verified Buyer

Reviewed by CLK from California on Monday, December 11, 2017

This is my first headlamp so I was a little confused as to how to work it. . .I googled and watched a video which helped alot. I am really happy with my purchase.

Verified Buyer

Reviewed by Wiskit from Spring Creek, Nevada on Thursday, August 17, 2017

I lost my other black diamond headlamp and replaced it with this one because I loved my other one so much. I'm not disappointed. This one rocks as well.

Reviewed by B from Ohio on Thursday, March 19, 2015

I really like this headlight and I use it all of the time. It has a variety of settings including a red light mode, and I love that you can adjust the brightness of any of the settings by simply holding down the button.