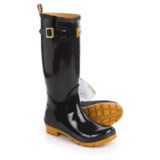 2nds. The extra height of the Joules Field Welly glossy rain boots means your bottom bits will stay dry and happy while slogging through muddy fields or jumping around lake-sized puddles. They just need a quick spray from the hose or a damp cloth to retain that cheerful, high-gloss finish.
Average Rating based on
27
reviews
4.629629
0
5
Verified Buyer

Reviewed by Country Girl from Ohio on Friday, December 30, 2016

Great boots, better than I expected!

Verified Buyer

Reviewed by Cedarhill from Trinity County, California on Friday, December 23, 2016

I love my new Wellies. The do run a bit small, but most rain boots do. Not too heavy and cumbersome as some of the other less colorful brands are. Also, since I live on uneven somewhat steep ground, I'm glad that the heel isn't too high so I don't roll my ankle out in the mud and muck. Being made of natural rubber I'm hoping they'll last longer than one season like a lot the the vinyl boots do (and then those just end up in landfill). Colors are too fun!

Verified Buyer

Reviewed by kk from british columbia on Tuesday, September 20, 2016

durable, flashy, city streets or slopping through the bush, perfect boots

Verified Buyer

Reviewed by Lisa from Tennessee on Saturday, September 17, 2016

Great color, fit runs a little big. I plan to personalize with initials on the side. Can't wait to wear them.

Verified Buyer

Reviewed by Shoe nut from California on Saturday, August 20, 2016

These wellies are well made and would have been just what I wanted but unless you have VERY thin calves then don't bother. Even with the buckles open they would barely go over my more muscular legs. Very cute boots but...

Verified Buyer

Reviewed by Pau from Kentucky on Thursday, August 11, 2016

They feel very strong and should last for years...good-looking, too, and fit well. Can't wait for autumn/winter rain and sleet.

Verified Buyer

Reviewed by Bunny_who_skis from Golden, CO on Thursday, June 23, 2016

I went one size down with this boot. It's warm and comfy. I'm just waiting for it to rain

Verified Buyer

Reviewed by Beza from New York on Sunday, June 19, 2016

The overall quality of this boot seems to be good, but the buckle is made of that cheap composite metal kind of material which is well known for breaking easily. Plus it looks cheap and for such an eye-popping detail, it devalues the boots. I also do not care much for the label right in front of the boot, for I found it also cheap looking and tacky. As for comfort, yes, they are comfortable, though not perfect. If I am not wearing the correct pair of socks, I can feel my heel going up and down while it rubs against the back, causing abrasion and feet to heat up a bit. I am not sure about other brands of Wellies and if this happens with the other ones, but I am curious to find out, since this is my first pair of Wellingtons. Also, I am an average 5'6" and these feel a bit too long for me. As I walk and bend my knees, the back of my legs hit the edge of the boots. Because of this, sitting down also adds a bit of discomfort as the back of the knees hit the edge of the boots. And forget about crossing your legs because the buckles make it impossible, since one will hurt the leg on top of it. Oh, well... In all, I'm not too impressed with these, but they seem to be sturdy in construction.

Verified Buyer

Reviewed by T38preston from Mammoth CA on Thursday, May 26, 2016

Wife didn't like sent back

Verified Buyer

Reviewed by AiryGirl from Mount Airy, NC on Saturday, May 14, 2016

I got the gray boots with the pink accent and they are so cute! I usually wear 8.5 in boots, I ordered these in 8 and they fit perfect. I can also fit a thick pair of socks with no problem. I can stuff my boot cut jeans inside the boots with plenty of room. Disclaimer, I do not have big calves. The boots fit right below my knees and are easy to walk in. This will be helpful for creek walking and very rainy days. The soles are very comfortable which surprised me. Usually rain boots have minimal construction, these are so much better than my last rain boots! I would confidently buy this brand again.