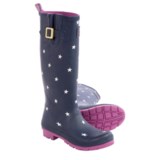 2nds. The fun, vintage-inspired prints on these Joules Welly rain boots bring a little cheer to drizzly days, and the waterproof rubber keeps your puddle-jumping feet dry. The cushioned footbed and adjustable strap ensure a secure, comfortable fit, and mud clears away in a snap with the swipe of a damp cloth or spray from the hose.
Average Rating based on
22
reviews
4.181818
0
5
Reviewed by Ann G from Seattle, WA on Wednesday, December 14, 2016

These boots were listed as having a wider calf than my beloved Kamiks (RIP), but were much tighter. The gusset was not deep enough to make any difference as it was above the widest part of my calf (I'm only 5'2", so that might be different for someone taller). Worst of all, the rubber cracked the first time I wore these boots in freezing weather. They're cute, but cute doesn't always cut it.

Verified Buyer

Reviewed by postiecat from Washington on Monday, September 26, 2016

My only complaint would be that they are squeaky. Other than that they fit great. Are very tall which is nice to not have to worry about getting anything wet. Not so sure about the adjustable strap. I do have one calf smaller than the other and I can't seem to move the clasp. But its not bad enough to return. Can't wait to wear them.

Verified Buyer

Reviewed by Puddle splasher from Texas on Wednesday, September 14, 2016

I love these boots. They are sturdy, cute and almost up to the knee. I was concerned that they might be tight on my healthy calves but they fit wonderfully. I usuallt wear a 9 and I ordered a 9. They do run a little big but nothing a thicker pair of socks can't remedy!

Verified Buyer

Reviewed by Kristin from Michigan on Friday, September 9, 2016

I love the look of these. They have a matte (not shiny) finish. They run true to size, which means they are a little big for my size 6.5 feet. I buy boots big, because I have a high instep and wide forefoot.

Verified Buyer

Reviewed by Miss M from Northeast on Friday, August 26, 2016

I have not worn these outdoors yet, but they fit well and look adorable so I'm keeping them.

Verified Buyer

Reviewed by Domrocks from Texas on Monday, June 20, 2016

I loved the style but most of all the comfort! they kept my feet dry and warm. The heel was the best! used them my entire trip in Chile

Verified Buyer

Reviewed by Farm girl from Texas on Wednesday, June 15, 2016

Like these boots for wearing around the farm. Tall enough to keep my legs dry from the dew. Run a little large though.

Verified Buyer

Reviewed by Xander Farm from Texas on Tuesday, May 17, 2016

It rains a lot here during the spring and fall, and we work outside on our farm. I love how tall they are, almost to my knees. They are soft inside and keep my feet dry.

Verified Buyer

Reviewed by kt from Ohio on Tuesday, May 17, 2016

This is a cute boot, but the top is too narrow for my calves. I'm not a tiny person, but I am active and have bigger calves. If you have lean calves, this boot will work for you.

Verified Buyer

Reviewed by Stevie Rides Horses from Oregon on Saturday, May 7, 2016

I didn't realize these boots were 2nds until I had bought them and was concerned about what that meant until they arrived. They are awesome! Totally waterproof and soft rubber, they fit my size 7 foot perfectly. I am only 5'2" and read a review that someone said she was 5'8" and they were too tall. I had no such problem at all. If I had anything negative to say it would be that the foot and arch is so soft it provides little support. So I took the arch supports from my old boots and put them in the new ones. I live in Oregon where it rains ALOT and have been wearing them daily. I don't know why they are considered 2nds, I don't see anything wrong with them. I love the color and pattern! I ride horses, wear these to the barn and just hose them off when I'm done.