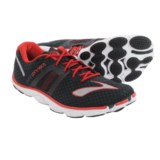 Closeouts. Brooks' PureConnect 4 running shoes feature the BioMoGo DNA midsole, which offers adaptive cushioning for custom comfort and smoother transition from heel to toe. Still sporting a minimalist profile, the featherweight shoe features independent-moving toe-flex outsole pods for support and flexibility, and a rounded heel improves body alignment as it reduces internal stress.
Average Rating based on
16
reviews
4.312500
0
5
Reviewed by steadFAST from Tuscany, for now on Saturday, October 15, 2016

and this shoe didn't fix it... The molded portion around the toe on the left shoe caved in and rubbed on my toes, and the tongue of the shoe goes was too high onto my shin. It was so annoying, I folded it down like a soccer cleat tongue, but then decided to not even run in them.
I stocked up on the Pure Connect 2, and have a used and brand new pair of those; and a quite used Pure Connect 3. Will be sending these back and hoping some older models appears somehow. The burrito or taco tongue on the PC2 and PC3 was great...not sure why that was replaced.

Verified Buyer

Reviewed by Ol' Betsy from Arkansas on Thursday, September 8, 2016

These shoes hug my feet well and allow me to feel connected to the ground in a racy way. They are lightweight and still provide an optimal amount of cushioning. I actually put a little over 800 miles on my last pair of these shoes (the PureConnect 3 version) so they are very durable and well-wearing too. I recommend them to those looking for a minimalist-type shoe that still maintains adequate cushioning and arch support. I also appreciate the low price for the performance of the shoe. For comparison, I am 6'2" and 150 lbs with size 11 feet, I have normal pronation and normal arches.

Verified Buyer

Reviewed by Dan from Utah on Monday, September 5, 2016

I wish they still made them! Great minimalist shoe.

Verified Buyer

Reviewed by Chris Triing from Chicago on Monday, September 5, 2016

I am surprised that this model is been phased out. I have worn them for run training as well as for my ironman and half ironman races. They are comfortable and responsive with just the right amount of cushioning. If I could petition Brooks to keep them going I would but they already have a new model to replace this beautiful shoe

Verified Buyer

Reviewed by AuntRuth from Utah on Friday, August 19, 2016

Good quality, great price! Just what was needed.

Verified Buyer

Reviewed by ChristianARL from DC on Thursday, August 4, 2016

Excellent shoe! My third pair...they have really helped my running. (54yo, 6'4", 8min/mi)

Reviewed by ssmith2 from Maryland on Friday, July 15, 2016

Just wore out my PureConnect 3s and bought these to replace them. Honestly don't like what they did with the redesign. The tongue is no longer affixed to one side of the upper and wanders around during running. As another reviewer said it's also now too long and cuts into the front of my ankle. The laces don't seem to stay as tight either. The PureConnect 3s fit like the proverbial glove while these seem looser all around, except for the toe box which is still a little tight. They're also slightly longer. I usually wear a 10 in most shoes and my 3s were 10 1/2. Probably could have gone back to a 10 and been fine. Enough for the gripes, because overall this is still a very good shoe for a forefoot/mid-foot runner. If you're a heel striker, you should look elsewhere.

Verified Buyer

Reviewed by Scot from Texas on Monday, June 27, 2016

Very nice. Great fit and durable


Verified Buyer

Reviewed by Randy from Georgia on Thursday, May 26, 2016

So far so good.

Reviewed by Denise W from New York, NY on Saturday, May 14, 2016

On this 4th version of the Pure Connect, the tongue has been changed. It's longer and cuts into the sport where the front of the lower leg ends and the top of the ankle begins. Created a blister while running. Now I must wear a bandage or crew sock to prevent the irritation. The other option would be to apply moleskin on the inside of the tongue itself.
I hope Brooks didn't do this on all of their version 4 pure series.
This is the first time I've been disappointed in a Brooks sneaker. Brooks has been my brand for about 7 years.