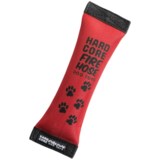 Closeouts. Five-alarm fun! Outward Hound's Firehouse Squeak 'n Fetch dog toy is made from extremely durable firehose material, so it stands up to the most aggressive chewers and fetchers. Designed to float in water, it features a built-in squeak for even more fun.
Average Rating based on
13
reviews
3.384615
0
5
Verified Buyer

Reviewed by abby from rural Pennsylvania on Tuesday, December 6, 2016

My girl's tough & she even tears this toy apart eventually; but it last way longer then most toys. Would Recommend!

Verified Buyer

Reviewed by AK from California on Friday, September 9, 2016

My 11 month old lab/bordie collie mix (32 pounds), likes it. She enjoys playing fetch inside the house, and it is soft enough to that it doesn't break anything when thrown.. After a week, the seams are starting to unravel from chewing, but I expected no less. It is more durable than most. She'll love it the smellier it gets and until the stuffing is completely out.

Verified Buyer

Reviewed by tiffonya from california on Thursday, August 11, 2016

my dog loves this thing. she can chew and chew and chew and it never comes close to being worn out, so it is really good for serious chewers. another perk is it can get wet and dirty and cleans up easily. i'm sure we'll have this for years. solid value.

Verified Buyer

Reviewed by DnASchling from Colorado on Friday, July 15, 2016

I has hope my golden mix would be able to play with this, but she had it shredded in 5 minutes. She ended up vomiting red thread too. This product is dangerous for aggressive chewers

Verified Buyer

Reviewed by Chris G from Virginia on Tuesday, July 5, 2016

This toy is very durable but no match for my 8 month old pup. This viscous chewer of mine destroyed this toy in a mere 10 days...while that may seem very short, most toys last 2-3 days tops. While it was much more durable than most toys, my search continues for the holy grail of squeeky toys that will last a considerable amount of time. I will continue with rawhides until then

For most dogs i assume this toy will last much longer, especially compared to other toys, just wasn't the right one for us.

Verified Buyer

Reviewed by Pat from New Mexico on Wednesday, March 16, 2016

This toy is tuff, but not as tuff as my dog. It has lasted longer than others I've bought. Zoey already chewed the squeaker out and the stuffing will be next. She only gets this when we go out because she has a obsession with fiberfill. A couch cushion already had a run-in with her. These are cheaper than replacing another cushion.

Reviewed by Narob from Naples on Wednesday, March 9, 2016

Our mini poodle loves this toy!!!

Reviewed by Doggie mom from California on Sunday, February 28, 2016

Worthless. Within seconds of my handing this to my dog, the black ends were ripped off and the stuffing was all over the floor. Don't waste your money.

Verified Buyer

Reviewed by NCZD from Florida on Friday, February 26, 2016

My dogs are quite the destructible chewers. This toy was torn open and unstuffed, literally minutes, after giving it to them. The insides were strewn across the yard, the plastic squeaker inside was ripped apart, but this is pretty standard for most toys. I bought this after reading the reviews of others saying their pets couldn't destroy this product.

Overall, the majority of the shell of the toy is intact (minus the giant hole in the end) and my dogs continue to play with it. For the price I would recommend it as it seems to hold up just as well (as poorly?) as all other toys I have given my dogs.

Verified Buyer

Reviewed by puckles from nevada on Wednesday, February 24, 2016

This toy takes my dog ages to destroy- he's 4 years old and is only on his 2nd firehose. he rips cheaper toys to shreds as soon as we get them home.