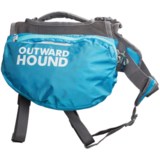 Closeouts. If Fido's coming along for the hike, give him a job to do! The Outward Hound Quick-Release dog pack has plenty of space for some extra food, water and a ball or two to throw in the downtime. Padded back and harness straps place the load comfortably on your dog's body.
Average Rating based on
11
reviews
3.363636
0
5
Verified Buyer

Reviewed by Seeley from Wisconsin on Monday, July 10, 2017

If you miss putting the strap through one of the velcro closures on each side the pack slips badly to the other side. Once you get it properly adjusted and tightened it slips only a little and requires an occasional adjustment. Overall, a good pack and good design.

Reviewed by bailey from co on Friday, April 28, 2017

The sides have ripped after about 6 uses. Also, the packs seem to sit very high on my dog's back, so they tip from side to side easily, even when weight is evenly distributed. With a coupon this was about 15 dollars, so I feel like I've gotten my money's worth, but I will not be buying this brand again.

Reviewed by Lauren from Ohio on Thursday, April 27, 2017

Ripped on the first use and caused rubs on our pup's chest after 1 use....Company did stand by their product though and offered a replacement.

Verified Buyer

Reviewed by M from Florda on Monday, April 10, 2017

Great buy for my puppy- practical and comfortable very easy to use

Reviewed by Princesschanay from Massachusetts on Monday, January 9, 2017

This is a great backpack for the low price. My 50 lbs 7 month old viszla wears a size medium and it fits great. It is a nice addition when the weather prevents us from doing super long walks (tires him out a little more) and for hikes where I need him to carry his treats.

My only feedback is that it does get a little lopsided from time to time. It is a two piece - a vest and a back pack that can be detached and sometimes I feel that it is not super secure. I think this product would be even better if it was just ONE piece. However, for the low price, it is a great pack.

Verified Buyer

Reviewed by Tannerwalker from Hood River on Monday, January 2, 2017

My yellow lab got one for Christmas and we tried it out snowshoeing. He didn't try to fight it like he had when we borrowed a friends last summer. It seemed to fit him comfortably and the adjustments to fit right were simple. I put a water bottle in each side but had to drink out of both to keep them even, otherwise the pack slid to the heavy side and was on crooked.
He got the pack caught in some branches and seemed to panic when he was stuck, fighting against the pack and managed to break off one of the snaps. Later I looked at it and the snap had pulled completley off the webbing. I still had both parts of the clip and was able to fix it. I think he and I will use this backpacking this summer!

Verified Buyer

Reviewed by Maaakaaa from Colorado on Thursday, November 10, 2016

Fit my dog well and he didn't seem to mind it, but the mesh top area near the leash attachment tore quickly.

Verified Buyer

Reviewed by JustMe from Cincinnati on Monday, June 13, 2016

Surprise gift for my granddaughter ... for her dog. She loves it! The last one was about to kick the bucket after years of use and she was pleasantly surprised. The dog packs from STP are much better quality than from the big box pet stores.

Verified Buyer

Reviewed by Outdoor Enthusiast from Virginia on Monday, June 6, 2016

The compartments and spacious for transporting your pup's food and treats for a multi-day backpacking trip, but the biggest problem was with how the straps of the detachable saddle bags attach to the frame. They are velcro and don't stay secured, especially in wet conditions, and it's impossible to keep the pack centered on your dog's back with where the straps are supposed to attach, even when the weight in each saddle bag is completely balanced. The part that straps across the dog's chest and under the belly also isn't secure enough and moved into my dog's armpit, giving him a sore on his upper leg from the strap rubbing. All in all, my pup was very tolerant and didn't complain about the pack, but there is definite room for improvement.

Reviewed by Hieu from Chicago on Sunday, April 3, 2016

We used this pack this weekend on a 45lb dog. It fit perfectly and we thought it would be okay. We loaded each side with equal bags of dog food. Once our dog ran, it would sway to one side and get her off balance. She almost slid down a steep hill by a trail because of the weight imbalance. All it really needed was something to secure the detachable bag to the support vest.