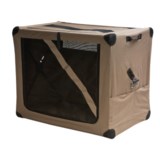 Closeouts. Keep pets safe and happy at home or abroad with ABO Gear's Dog Digs pet travel crate.
Average Rating based on
117
reviews
4.316239
0
5
Verified Buyer

Reviewed by Travelin' Girl from Missouri on Sunday, August 9, 2015

Love this! Ordered on line to be in Colorado when I was to arrive for vacation. The package got there the day before I did. Super!! It takes a few tries to get the sides to click into place, but once it does it works great. I watched a Youtube video about setting it up...and yep...it does take a few tries but is well worth money. It's much easier than tearing down my metal crate. It's stylish and my Morkie has plenty of room. I didn't have any problems with it flipping over or anything like that. My dog is pretty laid back so I don't have to worry about that. When it was time to head home, I folded it up and slipped it into it's stuff sack and off we went. Doesn't take up much room in the vehicle. What can I say...I love it!

Reviewed by Roseberry from Washington State on Tuesday, July 14, 2015

This crate lasted less than two hours: we put our dog in it while we were visiting relatives so we could go out shopping. We got back and the front of the crate was shredded and our dog was out of it. Even marked down, it is pretty expensive for less than 2 hours of use.

Reviewed by plevee from Oregon on Wednesday, May 13, 2015

I finally unzipped the top, put it on it's side and stepped on the metal innards with a socked foot while pulling up on the topmost side. The new pup hasn't tried it yet but it seems a well made item with good access top and front.

Verified Buyer

Reviewed by Megs from Illinois on Sunday, January 4, 2015

We are very impressed with this crate and use it for the nighttime sleeping space for our 5month old doxie brothers. It contains them, is extremely sturdy and holds up well to some scratching and chewing. It is easy to assemble and we love the fact that they are closed in on all 4 sides.

Verified Buyer

Reviewed by Sierra Customer from New England on Wednesday, October 29, 2014

Great buy, good quality. It was in use couple of times and it performs to my standards. Fabric is strong, zippers hold well. Easy to fold and unfold in seconds. stores in provided small bag with carry handles, taking little space.

Verified Buyer

Reviewed by kristino from Oregon on Saturday, October 11, 2014

Although the item seemed well made and sturdy, I could not get it assembled without fear of damaging it. So I returned it, regretfully. It was a great price.

Verified Buyer

Reviewed by Steve from Atlanta on Thursday, May 22, 2014

Great product at a great price.
Light, and easy to set up.
Perfect for many uses.

Verified Buyer

Reviewed by Paula from Michigan on Monday, May 12, 2014

Nice, good quality, but it stinks.

Reviewed by Dog Gonnit! from Sacramento on Friday, April 25, 2014

This cart (medium) was exactly what I needed to carry my 2 Chihuahuas. It pops open with extreme ease and also folds back into the carrying bag in seconds. I really wanted to be able to keep it but the fabric contained an extremely toxic smell similar to motor oil or a type of chemical. I'd hoped it would air out and had it opened in my house but the odor was too much to stand so I placed it in the garage, then the entire garage smelled of the chemical. With my past experience of purchasing a pair of tights with the same smell, putting them in the washer and hanging them outside for two months without the smell subsiding, I knew this crate was a lost cause. If you don't mind inhaling chemical odors, this crate is wonderful, but me and the Chis are too sensitive so I had to send it back.

Reviewed by kp from colorado on Friday, November 1, 2013

my dog kennel smelled like gasoline when it arrived - that is the only negative. Otherwise it pops open so easily and packs down so small and easily. seems to be built of very durable materials, comes with directions and a carry case. i believe this was a wise purchase. i have a 28# pug and she fits very comfortably in this kennel.