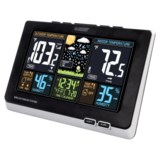 Closeouts. Designed to operate wirelessly within a 300-foot range, the La Crosse Technology Wireless Color Weather Forecast Station keeps you apprised of the weather, inside and out. Its colorfully animated icons display time of day, day of week, 12-hour weather forecasts, humidity level, barometric pressure and much more.
Average Rating based on
8
reviews
3.875000
0
5
Verified Buyer

Reviewed by Mister Bill from SC on Thursday, March 30, 2017

I love the color display and the readings seem accurate. Unfortunately, the display goes dim after a few seconds, even when plugged in. This is inconvenient because you can't just glance at it from across the room to get the readings. You have to walk over to the unit and push a button to activate the display. What were they thinking?

Verified Buyer

Reviewed by JK from California on Monday, March 20, 2017

Love this weather station! But, we were somewhat surprised to find out that it has to be plugged in to display continuously. It was probably mentioned in the description, but we didn't get that far. When on battery power you have to press a button on top to have the display light up and it only stays lit for a very short time. Once we found a convenient place to mount it near an outlet, we were quite pleased. One other thing to consider is that it needs to be mounted out of direct sunlight for the display to be easily readable.

Verified Buyer

Reviewed by Kairos from Pennsylvania on Tuesday, March 7, 2017

This is a great weather forecaster! !! It is colorful, accurate and gives you time, date, temp (inside and out), humidity and fun little things like flashes of lightening when it's storming or rain/snow drops falling from clouds. I had so much fun with it and love it that I ordered a second one!

Verified Buyer

Reviewed by Kairos from Pennsylvania on Monday, February 27, 2017

This weather station is awesome! ! ! It's large numbers and symbols are easy to read from across the room and it displays
anything and everything you need to know about the weather for the day, what to wear: todays date, humidity levels and temps inside and outside of the home. It is so wonderful I ordered second one!!! Great gift for someone who has (almost) everything.

Verified Buyer

Reviewed by Ahmaduzzy from Michigan on Thursday, February 9, 2017

Works well. A little difficult to figure out all the symbols. Only con is you have to be right by it to see anything on the screen. If your across the room it is unreadable.

Verified Buyer

Reviewed by Bike rider from Denver on Wednesday, November 23, 2016

Easy to set up and use. The background light is adjustable so that it does not glow at night. Works well and no issues with the remote sensor.


Reviewed by Mike D from MN on Monday, July 25, 2016

Thought it was good at first, but after 90 days it quit working. Junk!

Verified Buyer

Reviewed by Bike girl from St. Louis area on Friday, April 15, 2016

I like this weather station a lot. I bought it to replace an outdoor thermometer and it gives so much more information. I thought it was going to be wireless, but it has to be plugged into an outlet.