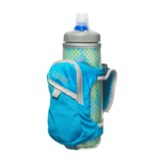 Closeouts. CamelBak's Quick Grip Chill water bottle keeps your focus on the trail, not your bottle. The insulated Podium Chill bottle keeps your water cold, and the mesh comfort grip secures firmly to your hand.
Average Rating based on
9
reviews
4.222222
0
5
Verified Buyer

Reviewed by zekemonster from Michigan on Thursday, December 21, 2017

I bought this water bottle to replace my Nathan Quickdraw Plus (no longer available) that sprung a leak. I like that the bottle is insulated and the mesh comfort grip is very comfortable. I really liked the bottle until I ran with it. It is very top heavy which makes it uncomfortable to run long distances (the reason that I bought it). The search continues for the perfect large running bottle to get me through marathon training.

Verified Buyer

Reviewed by Raven from USA on Saturday, July 22, 2017

Cute and seems functional. Nice color choices

Verified Buyer

Reviewed by Lara from Virginia on Friday, July 21, 2017

I always find myself shying away from running in the summers because I can't make it that long without drinking. But this bottle is big enough to go on a decent run and not run out of cold water. The pouch is big enough for my iPhone 6 with a thin case on it, but if you have a 6 plus or bigger, I don't think it would fit. The only downside is I had to tighten the strap a couple of times while running because it got a bit loose. Not bad at all though. I'd get it again!

Reviewed by Lala the runner from Mississippi on Friday, July 14, 2017

The hand grip holds my iPhone SE just fine but nothing else. The bottle is flawed, when full of water, it is top heavy, not balanced, the grip has to be cinched very tight to keep the bottle upright. Not a problem on a short run but annoying on a long run.

Verified Buyer

Reviewed by Trild from FL on Wednesday, June 28, 2017

You cannot go wrong with this hydration set up - the bottle is insulated & keeps drink cool; the product is well made, with an inside zippered pocket that will hold a bar or 4 gels; there is also a 2nd, smaller pocket without a zipper (for easy access) that stays shut until you want access...it will hold a gel as well...HIGHLY recommend this

Verified Buyer

Reviewed by Studebaker0088 from Colorado on Tuesday, June 6, 2017

Got my water bottle in the mail and was excited that it was exactly as I expected it to be. The water bottle itself has the "chill" insulation from Camelbak which I haven't tried yet but knowing Camelbak should work just fine. To be honest I was expecting the more foil texture of the insulation like other camelbak chill bottles but this one is not really foil,more thick plastic. The pouch was very nice, the strap fit nicely in my hand. The one issue for me was that I have an iPhone 6s with a case and a card holder on the back, and that does not fit into the pouch. But my case is a bit larger than average so perhaps other iPhone/case configurations may fit.

Reviewed by HikerRon from Illinois on Tuesday, April 11, 2017

I'm a runner and this seems to be a good size for a 5/10K. Good ergonomic design. I found the pocket to be too small for an iPhone 6. It has to be really stretched to get an iPhone in or out.

Verified Buyer

Reviewed by Anna from Kentucky on Monday, January 23, 2017

I really like this and it'll be great for walking this summer. Nice product and excellent price.

Verified Buyer

Reviewed by wildflower from OR on Monday, December 26, 2016

Plastic water bottle with hand holder and non leak top valve.
Creative design. Good bottle to use alone for cycling.
Looks like it will be useful.
The downside is that it is made in China.