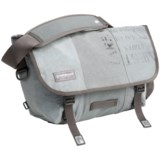 Closeouts. The Timbuk2 Terracycle Classic messenger bag is a unique version of the company's hallmark offering. Made from extremely durable recycled US Postal Service nylon mail bags, it features a TPU liner and bottom compression straps.
Average Rating based on
6
reviews
4.666666
0
5
Verified Buyer

Reviewed by Bill H from South Florida on Monday, August 29, 2016

I'm a long-time lover of Timbuk2 products. In this case I wanted the smallest possible bag that would hold my laptop with some other wares. In searching on the Timbuk2.com site it said I needed a medium for my XPS 13. As such, I picked the medium in this awesome bag (great material and design, btw, hope it comes back). It works, but unless the small is much more tiny, I feel the medium was a bit overkill. Still happy with my bag.

Verified Buyer

Reviewed by Matthew Li from Hong Kong on Monday, August 29, 2016

Nice messenger bag!

Verified Buyer

Reviewed by STLredrocker from St. Louis, MO on Saturday, August 20, 2016

My 5th grader wanted a messenger bag instead of a backpack for school. I knew Timbuk2 had made quality bags, so we purchased this one. My son loves it. It works for him and is the perfect size for him. So glad to of found such a good deal at STP. They always deliver quality and unbeatable pricing. Thank you.

Reviewed by muskox from Modesto on Monday, August 15, 2016

I like Timbuk2 messenger bags and have had an old model Classic Messenger. I wanted to get some of the updated features like the top grab handle, the laptop sleeve, and the outer zip side pocket that can be accessed by reaching under the flap. With this Terracycle bag, all these features are in place and work well. The old model without an internal wasn't designed well to carry large books, folders, or laptops as these items would fit awkardly in the bag. The sleeve in the Terracycle has no padding but provides much better organization and versatility. I appreciate the waterproof liner, and it does seem that the side flaps close better to seal out rain than the older model. It's also nice to be able to quietly reach in and get my wallet or passport out of the side zip pocket without having to rip open the velcro front flap. The outer fabric is thin nylon canvas, and although I have not weighed the bag in comparison with the older model, it does seem lighter when compared to my ballistic nylon model. Now about the recycled US Postal bag material - unless you happen to get some nicely done US postal stenciling on the front side, you may get a bag that just looks dirty and wrinkled, which unfortunately describes my bag (gray model). I have some good stenciling on the back side, and I do like the different shades of gray, but the dirt stains and wrinkles (perhaps these can be worked out with a little bit of careful warm ironing, but I haven't tried) are also part of the look. In general, I'm not so bothered by the appearance, and I actually prefer a more worn-out look and an absence of "US" markings when I use this as a day bag for international travel. So overall, it's a good bag for a good price, as long as you like the look.

Verified Buyer

Reviewed by Hiker Mike from Massachusetts on Tuesday, August 9, 2016

This bag has more room than I would have thought - easily holds my laptop and all of my work papers. The recycled postal bags give it a great look, too.

Verified Buyer

Reviewed by Gypsy Nurse Kim from Tennessee on Monday, August 1, 2016

I bought two of these messenger bags in red and grey. Made extremely sturdy and great attention to detail. The outer layer is vintage mail bags..I wish mine had even more words on them. That is hit or miss.They are very modern on the constructon with multiple zipper compartments and space for my laptop, tablet, cords and all the other stuff I pack around. I have one for work and one for playtime. It is a true messenger bag how the straps are made. Comfort is great. Mine can weight quite a bit loaded. But does not hurt my shoulder.Great buy!