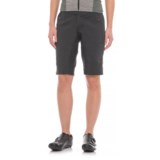 Closeouts. A lightweight baggy that's suitable for trail riding, Pearl Izumi's Summit shorts feature ripstop fabric with 4-way stretch and a DWR finish. Wear them alone for casual pedaling or pair them with your favorite liner
Average Rating based on
10
reviews
4.200000
0
5
Verified Buyer

Reviewed by Mtbr from PA on Friday, May 18, 2018

Color, fit and style are all good; they feel slightly less stretchy and a little thicker than other Pearl Izumi pairs I have. Appreciate all the zip-close pockets.

Verified Buyer

Reviewed by tkln from Vermont on Sunday, April 16, 2017

I was excited to find these shorts and purchased them mostly because the Q&A said they came with a liner - mine DID NOT. No liner. They're a fine short if you have liners, but they should clarify the liner situation.

Verified Buyer

Reviewed by SierraSage from Reno on Wednesday, April 12, 2017

I'm a curvy/fit size 10 in most jeans, and the size L fits perfectly over my lycra cycling shorts.

Verified Buyer

Reviewed by MGee from San Jose on Tuesday, April 4, 2017

These bike shorts were my first time purchase. I never like the skin tight stuff bikers wear because they look tight and uncomfortable. Size 10 were great fit for me 5' 1" 133lbs. I purchased a gray and a fuchia color pair of shorts. They have adjustable waistline and Iove the inseam of the shorts. It keeps the sun away from my legs on hot days and the pockets have zippers to keep things from falling out. I do not like the snaps and Velcro for the waist band closure, but you can't have everything. They were the closest perfect bike shorts I could ever ask for.

Reviewed by Summer the Mnt Biker/Hiker from Colorado on Monday, April 3, 2017

5'7" 155 LBS, and the large fits snugly & accommodates my larger upper thighs & larger booty. I like the tabs around the waist to adjust that size as that I highly dislike the typical big pockets that can form above my rear (when the waist cannot be adjusted). These shorts will be even more snug when I wear my liner shorts under these outer shorts. (Keep in mind you need to use your own liner shorts.) I really wish the hot pink color would have been available in my size. I do not like light colors, myself, for mountain biking as that over time they will show stains and be hard to get clean. I am a big fan of Pearl Izumi biking apparel so I'll add this to my quiver. I

Reviewed by Karen from Vancouver BC on Sunday, March 26, 2017

I am 5'6 and 120lbs and it fits great.
The waist is snug.
It would have been nice to have the chamois inside
Very comfortable

Reviewed by JRob from Northern Michigan on Monday, November 7, 2016

These are super comfy, lightweight and great for really hot days. The detachable liner has the nicest and most padded chamois in my wardrobe. Wash and wears well. Very flattering, hits at waist in back, just below in front. Purchased a medium - 127 lbs, 5"5", average thighs, long rise. Found the sizing to be spot on, however, I have two pairs of these and the older pair seems to have a little more give in the waist of the short than the newer pair does that is pictured here but they are still just as comfortable.

Reviewed by MTB gril from Canada on Saturday, May 14, 2016

I am 5'7, 130 pounds with a bit of hip :)
The medium is a bit tight for my preference. I cannot let the waist out any more, and they are snug in the leg. I own another pair of Pear Izumi MTB shorts, they are a medium and are quite loose... I really like the length, and the fabric is great though. I will keep them as they are nice shorts, but I might order a large if I ordered another pair.

Verified Buyer

Reviewed by Alison from Boquete on Saturday, April 30, 2016

I am a solid MEDIUM. The Medium is a tad small but doable with minor alteration with the front tab. I did notice they did stretch a bit. The fit then is close to perfect. I am short waisted. The Medium is very low rise. On a 2nd orde, I ordered a size LARGE. The Large fits perfect with the adjustable tabs fully closed. For me?...I think I'd just stick to the medium. I liked the shorts well enough to purchase them again even though I had to make adjustments. They are light yet durable. They dry over night and do not wrinkle. I now have 4 pair. ( one large and 3 mediums)

Reviewed by Alison from Boquete, Panama on Saturday, April 9, 2016

Sizing......I am a solid muscular medium. The hips and legs were perfect but the waist was a tad too small. The waist has in the inside back elastic adjustable tabs where you can adjust the waist. It was at it's max and the waist was still too small. I took the tabs ( more like flaps) out and used one of them as an extension in the front and the pants are now perfect. I just used the velcro from the back on the front tab. Possibly a size up on these pants might be a good idea. The material is light sturdy and breathable. The front is low rise with the back a tad higher. I wear them every day. They dry overnight when washed.