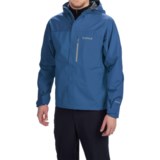 Closeouts. Ideal for the backcountry minimalist, Marmot's Minimalist Gore-Tex® PacLite® jacket provides powerful weather protection in an impressively lightweight and packable design.
Average Rating based on
12
reviews
4.500000
0
5
Verified Buyer

Reviewed by Needsleep from Minnesota on Wednesday, June 28, 2017

Hi there, This jacket is not as bad as it looks on the computer screen, although you do stand out in a crowd. I considered that in the backcountry you are never really trying to hide... so it should be ok. And most of my wear will occur in town anyway. The jacket is everything I wanted except for the color: pit zips, Goretex, and well fitting. The only downside is that you need to secure the cuffs (velcro) every wearing or the sleeves are too long. And likewise unsecure them or you can't get the jacket off. But from a functional standpoint? Outstanding! And the price was 55% of retail ($100 of $185). Jacket came in less than a week without electing expedited shipping. Very happy with purchase and store to door service. You rock, Sierra Trading Post!

Reviewed by CoachCore from Louisiana on Tuesday, June 13, 2017

I work at a summer camp and was in need of an upgrade from my Marmot PreCip. Great jacket - but in a downpour, while doing carpool, not so much.

The first day with the Marmor Minimalist and I had a rainstorm at camp. And it worked perfectly. I highly recommend it with zero regrets.

Verified Buyer

Reviewed by Great Medvedini from Montana on Wednesday, March 29, 2017

I bought this jacket because I want to have a bright green Goretex jacket. I check breathability and waterproof levels on site, numbers was good - but when iI wore try this jacket for 40 minutes plain trail walk — I was totally wet, as in cheap Chinese PVC (my body, my Nike dry-fit t-shirt and my Columbia fleece and jacket inside). As under rain without an umbrella. And this walk was done with completely opened armpits!!!

Guys on manufacturers site write reviews that this coat isn't rainproof.

For curiosity - I check the same route with the same weather condition and the same cloth, but with UA Moonraker Goretex and next time in RPZN non-Goretex jackets - I was dry.
I return it and I can't recommend this jacket for any purposes.



Verified Buyer

Reviewed by Andrew H from California on Sunday, February 19, 2017

I'm very happy with this model. Good breathability, freedom of movement, excellent beading and bomb-proof water resistance, and all the basic features you need, with a simplicity of design that makes it easy to work with.

Verified Buyer

Reviewed by AZBiker from Phoenix, AZ on Tuesday, January 24, 2017

Excellent lightweight rain jacket. True to size.

Verified Buyer

Reviewed by Friend to the sasquatch from Michigan on Tuesday, January 24, 2017

After purchase of this jacket I immediately put it to the test with a winter camping trip in the cold rain, followed by a 5-mile hike the next morning in pouring rain. This jacket held up to the elements very well, the fit is fantastic, and it was easy to regulate my body temperature during a moderate hike with the pit zips and front zipper.

Later that evening we had a real downpour and I spent 45 minutes standing in the rain to test the waterproofness of this jacket. To my surprise, when I took the jacket off I was completely dry on the inside... I look forward to many future outings with this jacket and only my only regret is that I hadn't purchased it sooner.

Verified Buyer

Reviewed by James from Michigan on Friday, January 20, 2017

Very minimal, functional, and high quality! The color looks much better in person as well. Hood, cuffs, zippers.... all fantastic especially considering the price.

Verified Buyer

Reviewed by Suzie from Carpathians on Friday, August 5, 2016

This jacket is fully met the expectations of the purchase, compact, lightweight, very easy to put it in the backpack, perfectly protects even in heavy rain.
now I can not imagine a hike in the mountains without the jacket

Verified Buyer

Reviewed by Fly Fisherman from Kentucky on Saturday, June 4, 2016

It's hard to find anything negative to say about this jacket. For Gore-tex, it's light. I used it once already fishing in the rain, and I stayed completely dry, except for a little sweating. That's the trade off for good waterproof protection, but it's preferable to getting soaked. The colors in this model (two-tone orange) look nicer in person. It has the exact same specs as another, more expensive Marmot model, but I could see no functional difference. I night-fish for catfish, and they tend to bite well when it's warm, dark, and rainy. Lesser, lighter materials/finishes lose their waterproof properties after a while, and water eventually soaks through. Now, I can comfortably fish right on through a rainy night with this jacket and a pair of gore-tex pants or waders. These bright colors do show dirt, so I'll be cleaning this thing more often, but it's primarily a piece of functional gear for me, rather than a fashion statement. Other reviews complain about the short length of the jacket. It's designed this way on purpose for active use (hiking, fishing, etc.). If it were long, it would restrict movement too much for hiking/climbing, as well as fishing. When you're going to be caught in a significant rain for any length of time, you need rain pants or waders to go with any waterproof jacket. That's life. I'm 5'10", 170 lbs, 34" sleeve length, 33" waist, and 15.5-16" neck. The Medium was OK in the width with only a thin shirt underneath, but for more active wear and layering, the large fit better (especially in the shoulders for casting while fishing). I gave the Medium to my 13 year old son. He can grow into it. Be aware, the sleeves are long in both the Medium and Large, but the velcro adjustments take care of that. For a quality Gore-tex item, with discounts, STP's prices can't be beat. This thing should last me at least 10 years of heavy use, maybe 20. I got 10 years out of cheap, $25 dollar nylon packable rain jacket with DWR finish, giving it a touch up spray coating every few years. Now, to find a similarly priced pair of Paclite Gore-tex pants! Those waders get a little too hot on steamy summer nights, even in a steady rain.

Verified Buyer

Reviewed by M21DRAGON from M21DRAGON on Sunday, May 1, 2016

I purchased this despite the color because the price was incredible and I had read some great reviews online. I've worn it a couple times and really like it. It has a very athletic fit and it is very comfortable. I would give it 5 stars but just haven't used it that much.