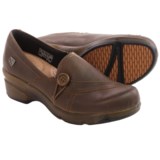 Closeouts. From first day of college to first impression at the office, the soft leather upper, clog-inspired slip-on silhouette and eye-catching side button accent of Keen's Mora Button shoes are sure to start things off on the right foot.
Average Rating based on
12
reviews
4.500000
0
5
Verified Buyer

Reviewed by CanyonWren from Minneapolis on Wednesday, March 29, 2017

Cute, comfortable, true to size, great arch support.

Reviewed by Nadia from WA on Wednesday, March 15, 2017

I have absolutely loved these shoes so much that I bought another pair at a local place. About 3 mo after I started wearing the 1st pair the heel on one of them started to sound like it's sticky. Now, 8 mo later, the sole of both shoes is coming undone. I'm bummed. Keens disappointed me with a hiking pair now these ??

Verified Buyer

Reviewed by Barb from California on Thursday, January 5, 2017

I have neuropathy. Keen are the only shoes that are comfortable. I have 3 pairs of Presidio and a pair of Keen house shoes. I wanted a pair of shoes with a bit more style. I can were these all day.

Reviewed by WhyMe from TX on Saturday, November 19, 2016

I usually wear a 7.5 but in Keens sometimes need an 8 and did with this shoe. It does have a bit of a clog feel with not a tight fit on the heel. It is so comfortable. I thought the brown was pretty but did not like the magnet color. It was kiind of a cross between grey and brown.

Verified Buyer

Reviewed by 3dvizwiz from Boulder, CO on Saturday, November 12, 2016

Rats. My narrowish feet came right out of these when walking around the house, so mine were sadly returned.

Verified Buyer

Reviewed by jenni from Kansas on Sunday, November 6, 2016

Ordered my normal size, sent back because it slipped at heel. Current pair seems just right...believe it will stretch. Inside isn't leather-lined. That was my only disappointment. Not sure about the appearance, but I thought they were cuter than most closed-in clogs. I think the color is a nice basic brown, not too grey or tan.

Verified Buyer

Reviewed by midwest gardener from Michigan on Friday, November 4, 2016

Just the shoe I was looking for. They are comfortable and fit well. ( I always wear 1/2 size up in keens). Only problem is they seemed to scuff up easily. After one wearing I had to use shoe polish to make them look new.


Reviewed by Blue Flax from Northern Rockies on Friday, October 14, 2016

As a two-year recovering Dansko addict, I have turned with enthusiasm to Keen for my moderately wide(C- width) feet with very high insteps. I have come to expect Keens to be immediately wearable. The Mora Button Shoes proved otherwise. I liked the shoes immediately on opening the box. I have needed an everyday bump-a-round shoe, so when these arrived and I realized my instep was an issue, I was disappointed and undecided: return immediately or fiddle around with them and maybe regret it. To initially get the shoe on, I needed a butter knife to gently get the shoe over the instep since the shoe leather "rolled" and "curled" a bit over the top of the foot. Insole removal was the quickest solution, right? Pull it out and insert a Super Feet insole from my hiking boots, thereby lowering the foot for the sake of the high instep. But the factory insole was securely fastened, and to remove it was to make a serious commitment i.e. to "marry" the darn shoes. So, I spent the day in a thinner sock than I normally wear and wore the shoes inside. Ignoring some discomfort over the left foot, I guess I will keep them, (despite my distaste in "breaking in" a shoe) since my ace in the hole is to visit my local cobbler who routinely has stretched my shoes for a week i.e. another $20.00. Hopefully, these will be standard go-to shoes eventually. But if you don't have time or money to invest it the high-instep adjustments, skip this shoe.I am a Dansko 38, Keen Size 8 by the way.It's about the darn instep.

Verified Buyer

Reviewed by Donna E from Burlington, CT on Monday, August 22, 2016

I was looking for a nice, sturdy shoe similar to Dansko but not as "purposeful" looking. These fit the bill. Lots of support, nice design, comfortable from the get-go. Will be taking them to Switzerland!

Verified Buyer

Reviewed by Angela T from Oregon on Tuesday, May 31, 2016

This is my first pair of Keen's and I'm very happy with them. I'm the past I've had trouble with shoe pinching my toes and being painfully tight across my arch, this has not been an issue at all with these shoes. I am on my feet for 10 hours a day at work and the Keens required very little break in time. I am now a loyal fan!