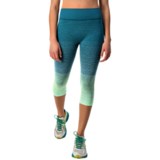 Closeouts. Brooks Streaker capris are even more comfortable than running in the buff, thanks to DriLayer® Adapt fabric that delivers ultra-soft performance and a personalized fit.
Average Rating based on
11
reviews
3.727272
0
5
Reviewed by Justmartha from New Mexico on Tuesday, April 25, 2017

I wish I'd read the other reviews before I bought these. They are very cute and the color was exactly what I was looking for. But - like several others, I have had the unravelling problem. I've probably worn them 3 times - washed them once, did not put them in the dryer, and when I went to wear them again I noticed that about 6" or more of one side, probably along a seam, had come unravelled - it doesn't make a hole and it is marginally visible from the outside, but first, I am sure it will tear quickly, and second, it is just poor craftsmanship for the money being charged for these! I have not called customer service yet but I will

Verified Buyer

Reviewed by Mynx from FL on Monday, October 24, 2016

Supportive, excellent fit and style! More colors please! Thick enough to keep a sense of modesty!

Verified Buyer

Reviewed by KY_Viewpoint from Kentucky on Wednesday, September 7, 2016

I love the color, fabric was heavy, waist is high. I got a medium (5'8", 130lbs) and wish I'd gotten a large. They fit but are snug.

Reviewed by Tai from Washington (WA) on Monday, August 29, 2016

I wore these once and washed them. When I pulled them out of the dryer I noticed a seam had fallen apart. Customer service let me exchange them for another pair. Got the new pair, wore them, washed them... guess what? Same seam fell apart. Going to attempt to fix it myself this time. It's a bummer because these are super cute and comfy and I got compliments both times I wore them.

Verified Buyer

Reviewed by Brooke from Colorado on Monday, August 15, 2016

I have a hard time rating these - the capris themselves are great! Comfy and compressing, don't ride up/down, and the pattern of course, is cute and catchy. When my order arrived, I tried them on and felt a weird bunching on my left (outer) thigh. So I took them off and found that the inside was fraying of sorts, about 6" worth. So I called customer service, and they were great! Caitlin was extremely helpful and polite and sent me a new pair, stating they would be checked to avoid running into this issue again. The new pair arrived quickly and guess WHAT...the NEW pair were not opened/checked and had the exact same problem. I called customer service again and explained the situation. This time, I spoke to Alex, who wasn't as polite and seemed annoyed to be speaking with me. He said there was nothing he could do, that the items were being pulled because it was a recall of sorts (items are still not pulled...) and that I could return them or keep them, it was up to me. But for my troubles, he did provide me with a $20 gift card...

So overall, I am disappointed that these are poorly made and disappointed that my item wasn't checked before sending out as I was told it would be. The fraying doesn't make the capris less comfortable or anything, but being active in them and washing them makes me nervous they might fall apart...I decided to keep them because I do love them and they weren't terribly expensive if they do in fact fall apart... BUT BE WARNED if you are thinking of purchasing these, that they might be frayed on the inside and I can't attest to what affect this might have on the pants. I was told that they were being pulled, but they are still able to be purchased.

Verified Buyer

Reviewed by mgregg from Califorina on Monday, August 8, 2016

They have a nice compression fit with a lot of fashion - I get a lot of complements on them

Verified Buyer

Reviewed by Ernsmith from Minnesota on Thursday, July 21, 2016

Even though I didn't end up keeping these capris, I still think they're pretty great. I got a large because I have pretty wide hips, and they fit just fine. I liked that they are seamless and provide some compression. I love the colors; I ordered both the blue and yellow and the magenta and navy ones. Problem was, with the large, the bottom of the leg was not skin tight like the rest of the pants on me. I don't have very big lower legs but substantial thighs. I just didn't love the baggy lower leg so sent them both back. Otherwise, they seemed like really well made pants.

Verified Buyer

Reviewed by Lolly from USA on Tuesday, June 28, 2016

These are a great fit for my trouble areas - I have a little extra to love at my waist and these adjust and stretch to cover and hold it all in. A higher waist and forgiving fabric/weave make these awesome for exercise and comfortable enough to wear around the house.

Verified Buyer

Reviewed by Carmi from Wisconsin on Tuesday, May 17, 2016

Very well made, fit right and very cute!! I love these capris! Great for running or working out at gym.

Reviewed by JemmyFeen from Washington State on Sunday, May 1, 2016

I haven't had any problems with holes in these capris as the previous reviewer did. I love them because the waistband area isn't too tight but not so loose that you have to keep yanking up the pants as you work out. The pink-blue color combo is lighter in shades than the picture, lots more gray than shown-- I get compliments when I wear these!