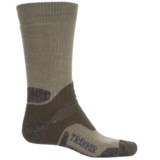 2nds. Choose Bridgedale's Trekking socks for low-altitude hiking and warmer conditions; made of a warm new wool blend, they're specifically designed to maximize the performance of waterproof footwear.
Average Rating based on
256
reviews
4.500000
0
5
Verified Buyer

Reviewed by Guzzi from CA on Monday, September 5, 2016

Love these socks and I have only just tried them on! They are very soft and yet feel firm and supportive on your feet and the height is just perfect under a just above the ankle boot.

Verified Buyer

Reviewed by Waterfall Hiker from North Carolina on Saturday, July 23, 2016

I've always loved Bridgedale socks, and these are no exception.

Verified Buyer

Reviewed by Candice from Birmingham, AL on Monday, October 12, 2015

These were good socks for not-so-cold weather. They definitely wick moisture away from your feet.

Verified Buyer

Reviewed by Todd the Trail Guy from Bozeman, Montana on Wednesday, September 23, 2015

The sock appears to be of good quality materials.
Unfortunately, after I pulled on one sock for the first time, all the elastic was stretched out of the cuff and it was so baggy that it would stay up at all Completely worthless in my opinion. I tried the other sock and it did the same thing. Seriously! I have never had a pair of socks that I could wear out by just putting them on once. Ridiculous. Obviously I returned them at once. The Point 6 Tech socks were much better.

Verified Buyer

Reviewed by Hilary from New Mexico on Thursday, July 30, 2015

Bridgedale consistently makes the best wool socks ever! They fit well, wash well and last a long time, especially if you hang dry them.

Verified Buyer

Reviewed by Bradbury Bob from Ohio on Tuesday, July 28, 2015

Bridgedale Trekking New Wool Blend Midweight Sock is good quality and a good value, especially when price is reduced.

Verified Buyer

Reviewed by Doug C from Nebraska on Wednesday, May 27, 2015

Bridgedale is the only brand of socks i buy and wear the past 8 years except for the shorty socks in my sneekers. I still have the first pair I ever purchased 8 years ago. Just wore them yesterday and noticed a couple thin spots in the sole. Heels and toes are both in good shape. I really like the 35-40% maximum wool blend socks the best. Can wear all day in warm weather without feet overheating. You have to look pretty hard to the find the blems in the seconds that STP sells.

Verified Buyer

Reviewed by Joe from Kentucky on Saturday, May 9, 2015

Are these the nicest socks on the planet? Yes.
How high is the bar to be considered the nicest socks on the planet? Low

Verified Buyer

Reviewed by Bilbo from Oregon on Monday, March 30, 2015

This sock provides some padding and support and breathes well.

Verified Buyer

Reviewed by Fly Fish 77 from Illinois on Monday, March 30, 2015

The socks have excellent cushioning. It appears that these socks are seconds because the embroidered letters spelling Bridgedale on the socks are not complete.