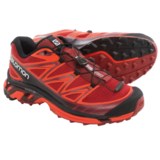 Closeouts. Salomon Wings Pro trail running shoes are built for stability and grip when moving through technical terrain. The AC Skeleton TPU midsole unit reduces lateral movement, and a dual-density Contagrip® rubber outsole excels in slick mud and steep dirt.
Average Rating based on
18
reviews
4.444444
0
5
Verified Buyer

Reviewed by MBCO from CO on Friday, December 9, 2016

This is the second pair of Salomons I bought. I needed a cleat-like sole to use while coaching youth sports on grass. These worked great. Outsole provides great traction until it wears out - probably could have lasted longer if kept on just turf/dirt.

Verified Buyer

Reviewed by Darin from Ft Smith,AR on Thursday, September 15, 2016

I love these comfort and support of these shoes and they are so easy to put on and off.

Verified Buyer

Reviewed by Kennon Outdoorsman from Missouri on Thursday, September 8, 2016

This are a very solid shoe. They do have a bigger style such as the tread and sole that I am not used to but this look and feel great. Tons of support. Extremely lite as well for such durable material.

Verified Buyer

Reviewed by lazer hitter from california on Thursday, August 25, 2016

perfect shoe for softball excellent grip and very durable

Verified Buyer

Reviewed by FlyFisher1 from Bend OR on Friday, August 19, 2016

These shoes are certainly supportive - much more so than other trail shoes I have worn. This makes them a bit heavier, but the trade off is worth it for me. The lace system is "slick" and does provide for a quickly adjustable fit. The excess lace tucks into a pocket at the top of the tongue - clever. I wonder how long this system will hold up though. It can be replaced, but seems to be "project" (there are You Tube videos step by step). I am not able to comment on durability, but the materials seem to be substantial.

Verified Buyer

Reviewed by Dakotakid from South on Monday, August 8, 2016

I have some very picky feet and can usually tell right away if they are going to be a good match for my foot. So far (2weeks) they have been quite comfy. They are a solid built shoe that should stand up to miles on the trails.

Reviewed by Ky dude from Kentucky on Monday, August 8, 2016

This is my 8th pair of Salomons. The Wings Pro are replacing my XT Wings 3. I think these may be the best yet. I understand they are discontinued so I may buy another pair for later - they are good for about 12-18 months - then retired to casual wear. Size 13 US as usual fit great. I like the integrated tongue to help prevent debris from getting into the shoe. Sometimes the speed laces can put too much pressure on my instep - sometimes they are OK. These speed laces feel good. If that changes I cut them out and replace with traditional laces. It requires some pliers to pull apart the plastic speed lace eyelets. The shoe is still great regardless of laces. Salomons have always felt natural on my feet - foot strikes seem not to be affected by the shoe - maybe the definition of neutral? I've tried shoes from Ino-v8, Montrail, Vasque, LaSportiva and probably others I have forgotten - most all of which I purchase from STP. I can't go for the light weight shoes, although I do like the minimalist drop so I run in Hokas on the road (only way I can run distance on pavement without pain is in Hokas) but I'm too much of a tender foot and don't weigh a buck fifty like a "runner" to use minimal cushioning. I enjoy running fields, trails - hard pack and loose, and gravel. They do well in snow and slush as well. They have also performed well for the Tough-guy race in Wolverhampton UK and Spartan races in the States. They hose off well and dry relatively quickly. Wings have really good traction but not like the big lugs on the fell and speed cross shoes. I find the fell and speed cross to not have enough cushioning for me - Ok for running only on grass and mud but I run on gravel roads and hard pack as well and like the Wings extra cushioning. You can still feel the gravel but it doesn't hurt and hard pack is not as jarring. As a reference I'm 5'11 and 190 lbs and started running in road races and school 34 yrs ago. I wear a size 13 in Salomons although usually a 12 in everything else. I have a wide fore foot and narrow by comparison heel, high arch. The Salomons are snug enough to never be sloppy when running very uneven terrain but not too tight to ever be uncomfortable. Over the years I have become very mindful of foot strikes so I have become less of a heel striker but the wide base on the heel of Salomon is a huge contributor, in my opinion, to their stability in fields and trails. I have switched shoes as an experiment and notice a big difference. After running XC in high school and suffering severe sprains I couldn't confidently run trails again until I found Salomon about 12 yrs ago. You can't beat prices from STP - without the great deals here I wouldn't replace my shoes as often as I do. Thanks STP!! Hope this review helps someone.

Reviewed by Backpacker Joe from Baltimore on Sunday, July 31, 2016

I'm writing this review of these shoes from a backpacker's perspective. I've gone on three or four trips with these shoes, with a weight of about 20 pounds on my back. I bought them because I liked the stability provided by the very wide heel, which spreads out like a "wing." (Just look at the images of the shoe from behind.) They are indeed stable and I really haven't rolled an ankle in the more than 125 miles I've worn them so far. Negatives for me are the tread, which is decent but does not grip very well on surfaces, particularly when I'm descending a hill. Previous trail runners I've worn with bigger lugs are far more sure-footed. Also, as opposed to other reviews, I don't find these to be particularly breathable. They're okay for fall or spring, but they feel hot for summer, again compared to other trail runners I've worn with more mesh. I find I need to take these off and give my feet a break after a day's hike, sort of like I used to do with boots before I made the switch to backpacking in sneakers. So, overall, I like them, but don't love them. I suppose the perfect backpacking shoe is hard to find...

Verified Buyer

Reviewed by Tom from Washington on Thursday, July 28, 2016

I love Salomon trail running shoes and overall I think these are good, but I find the lateral side of the shoe rubs on my ankle bone and irritates it. I think it will get better as I run in them more, but I haven't felt that in my other Salomon shoes. No other complaints. I love the simple lacing system!!

Verified Buyer

Reviewed by Trail Dog from Colorado on Tuesday, July 26, 2016

I have been out on a couple of longish hikes so far with these new Salomon shoes. I really like the design. They have great support and cushion, as well as being very sure-footed. Another thing that I really like is the fit. They seem to hug my feet nicely, even before tightening the laces. And the lacing system is great for securing them and distributing the pressure evenly. They also seem to breathe well. Essentially, they are everything that my previous trail runners (from a different manufacturer) were not. I'm glad I bought them. and what a deal!