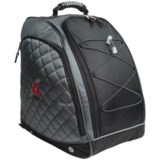 Closeouts. Athalon's Deluxe heated boot bag is durably built and operates with standard household outlets or your automobile's 12V power socket. The wrap-around heating system in the main compartment heats boots thoroughly, making it easier to put on tight, stiff ski boots.
Average Rating based on
11
reviews
4.090909
0
5
Verified Buyer

Reviewed by fcdr42th from Northern California on Monday, March 27, 2017

This is the best boot bag I have ever owned, and am looking forward to trying the heating feature next time I head up to the slopes. It can be worn like a backpack which will come in handy at the airport when managing the rest of my ski gear and other luggage.

Verified Buyer

Reviewed by cc from Colorado on Monday, March 27, 2017

This our second purchase of this bag. There is nothing better than warm ski boots and we turn them on overnight and take the bag with us in the car to the ski area. Very convenient and works great.

Verified Buyer

Reviewed by fly2mike from PacNW on Friday, March 17, 2017

I have used it twice now, works super. So nice to have warm toasty boots to put on!

Reviewed by Kitediva from Colorado on Monday, February 27, 2017

This bag works well. I ski 3 to 4 days a week, plug in my bag overnight and have very warm boots to put on in the morning. It also dries my leather gloves also. It is important to check to plug in, when you want to warm your bag in the car, because it does come apart if you're not mindful. I do wish it had one more zip pocket in front instead of a strap, that said, I really like having warm dry boots when I get out to ski.

Verified Buyer

Reviewed by Newtoutah from Colorado on Tuesday, February 14, 2017

This bag holds everything that I need for a day on the slopes plus warms my boots. Granted I have small feet, but I can also put my helmet, goggles, gloves and gaiter, and a down jacket in this bag. In the exterior side pocket, I have my sunscreen, glove warmers, money, etc. I don't know if it would fit in the overhead storage of an airline since it is a bit wide, but it might. I do like the backpack straps for carrying but don't turn too quick, or you may knock someone over. On the other hand it isn't wider than me, so I can get through a crowd without any difficulty. The heater works great, but I haven't tried leaving it on for more than two hours. Others have complained about it getting too hot, so I can't address that issue. Also I have not used the car charger. I only live a few minutes from the slope, so I've just preheated my boots at home and then headed to the slope. All in all, I like the bag and the best part was that I received an unexpected $100 gift certificate from Sierra Traders, so it cost me hardly anything. Yahoo.

Verified Buyer

Reviewed by Em1020 from Colorado on Wednesday, January 4, 2017

Put my snow covered boots in when I come in for lunch by the time I'm done eating my boots are toasty and easy to put on. I struggled putting wet cold boots on before so this was a perfect solution. Can't speak to the car charger others complained about because I don't use it.


Verified Buyer

Reviewed by Play outside from Wisconsin and the world on Saturday, March 5, 2016

This bag is poorly designed compared to my Hot Gear Classic bag. It would not be good for air travel because you can't fit your helmet inside. The pockets don't make sense. I never plugged it in to see how hot it got. But putting your boots on when they're warm sure is nice. Don't waste your money on this bag though.

Verified Buyer

Reviewed by renojohn from nevada on Saturday, February 27, 2016

like another customer mentioned, the car charger just fell apart. STP was very helpful in getting me a replacement, and I am now very pleased with the product

Verified Buyer

Reviewed by skier from mammoth lakes on Tuesday, February 23, 2016

Size 27 boots and can fit the boots with the liners in there separately (stacked onto of each other). What is wish was better is that the lowest heat setting wouldn't get so hot. I won't leave it on for more than 1 hour before leaving for the slopes otherwise the plastic ski boot shell overheats. Otherwise i just turn it on the morning 30-60 min before heading out and boots are warm and comfy.

Verified Buyer

Reviewed by Steve from Eagle, Colorado on Monday, February 22, 2016

I am very pleased with my ski boot bag purchase.