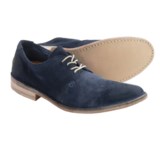 Closeouts. Add a little classic-chic style to your office or date-night ensembles with the Vintage Shoe Company's Ziba leather oxford shoes. The perforated medallion decorating the center toe cap may be subtle but it adds a heaping helping of character and class.
Average Rating based on
10
reviews
4.600000
0
5
Verified Buyer

Reviewed by Vera from California on Thursday, February 2, 2017

very nice shoes..just fit very narrowly..

Verified Buyer

Reviewed by PJ from Washington 5 on Friday, December 30, 2016

They're great, fits great and very stylish.

Verified Buyer

Reviewed by liesegang from PA on Monday, November 7, 2016

made in USA, look great out of the box as shown online - fit is nice. leather is soft, doesn't need much break in. a really great product.

Verified Buyer

Reviewed by Warren from Alexandria, Va on Tuesday, August 23, 2016

I bought these shoes at a tremendous discount of nearly 70% off. I took a look at them and they didn't appear very special. From the onset they fit tightly across the front. The leather on this shoe is top shelf, as is the design and craftsmanship. After a couple of days these shoes have loosened up a bit and I know that they will fit perfectly when fully broken in. I usually wear dress boots and work boots, but, these shoes are lightweight yet provide solid support for my feet. These shoes are a welcome change of pace for me. Very happy that I was able to score these!

Verified Buyer

Reviewed by Occasional Reviewer from Eastern USA on Saturday, July 30, 2016

As soon as I took these from the box, I fell in love with the harness leather. Looked great, felt great – broken in and "vintage-y," like an old baseball glove. But as soon as I put them on, I realized the love affair was going to be short-lived. They're very tight across the vamp – so much so that no loosening of the laces would help. (I think the stitching at the sides of the vamp might also have been a problem, rubbing against my foot, but I didn't own them long enough to find out.) I think the issue here has to do with this new "derby" style, featuring a "squashed" looking forepart and upturned toe. Inspired by some 1930s style it may be (although I'm betting 1930s shoemakers were better able to design around a real human foot); comfortable it is not. So back they went, with regrets for the beautiful leather. If you have a very low volume foot, you might have better luck.

Verified Buyer

Reviewed by Wes from North Carolina on Saturday, May 28, 2016

Very comfortable right out of the box. Nice weathered look and seem to be solidly constructed. Looks like welt construction, no glue apparent. A bit narrow through the middle but fit great. Very happy with these kicks after about 5 wears. Plus made in the USA! Great price and value.

Reviewed by RomaNyC from NYC on Tuesday, May 24, 2016

Got these in beige for the husband in his size, and they fit very well. He took them out of the box at 10am, pronounced them comfortable and still has them on this evening. What you see in the pic is what you get. The toe is distinctly darker, more worn than the rest of the shoe. Very 'vintage' effect.

Verified Buyer

Reviewed by geno taylor from Alabama on Saturday, March 12, 2016

My second pair of Vintage Walkover shoes. Both handmade in America. The Zibas are classic reproductions with more styling than can see in the photos. They are perfect right out of the box with a worn patina that looks like you've had them for years. The sizing seems accurate and the fit is very comfortable. I think I could have walked all day in them.

Verified Buyer

Reviewed by jdp238 from Virginia on Monday, March 7, 2016

I am still getting familiar with the "Walk-Over" company: maker of the Vintage Shoe Company product line. I try to support Made in the U.S.A. products whenever I can and don't mind spending more for a quality product. Thus far, consider me a fan!
The shoe is very comfortable and true to size. The harness leather (I believe harness leather is full-grain) has the character (variances in the shading and grain, etc.) expected from a decade of well cared for use. These are on the casual side of dressy. They look great with wool trousers, chinos, jeans and a sport-coat, but I don't think I will pair them with a suit. Anyway, next time I am in the market for shoes I will definitely look at Walk-Over offerings.

Reviewed by AB from USA on Tuesday, February 16, 2016

These shoes run true to size and are incredibly comfortable! Highly recommended to pick these up since the price is sooo right. Additionally, they look GREAT!