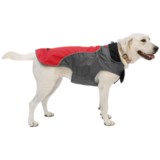 Closeouts. You may not enjoy a rainy or snowy walk, but your dog won't care when he's wearing the Mega Pet High-Visibility dog jacket, an easily adjustable waterproof layer that also has reflective detailing to help you keep track of him through incessant precipitation.
Average Rating based on
12
reviews
3.916666
0
5
Reviewed by Misshikergirl from California on Monday, December 26, 2016

This jacket does help to keep my dog's coat dry (at least the part of her that the jacket covers), but the velcro around the neck wasn't sewn on well and began to come apart after the FIRST wear. Not a big deal, as I could sew it back on myself, but quality control could be better as the other velcro strip around the belly will probably come undone with more wear. Also, i'ts *not* high visibility as it claims, but there are some reflective strips that sort of help with visibility in dim light.

Verified Buyer

Reviewed by Mandemhamm from Connecticut on Tuesday, December 13, 2016

I bought the size medium (based on reviews) for my 4 month old labradoodle puppy (14 pounds). The medium is perfect. It's great for rainy days and keeps my puppy's back completely dry. it's a great value for the money. I would definitely recommend this!

Verified Buyer

Reviewed by Erin from Pgh on Thursday, December 8, 2016

Good quality for the price, size up if your pooch has a barrel chest.

Verified Buyer

Reviewed by PNWgirl from Idaho on Wednesday, December 7, 2016

Very thin material, and seems to run a bit small. I have a medium sized poodle, and the large is very snug. I should have gone XL and adjusted it smaller.

Verified Buyer

Reviewed by Mary K from Minnesota on Wednesday, December 7, 2016

I ordered a large for my dog who is around 40 pounds. I was afraid it might be too big, but when it arrived, I couldn't get the velcro to reach around my dog's stomach. So, turns out I should have ordered an X-Large. I returned the vest thinking I would order an X-Large, but they were all gone. Plus, the return cost me over 6.00 dollars and I was given back $1.65. Not so sure I will order from this company again. At least not for my dog. I think I'll shop locally for my dog from now on.

Reviewed by Dog Mom from White Mountains of NH on Tuesday, December 6, 2016

These are GREAT well made jackets. I don't get too excited about products normally but I have to give these a thumbs up. I have bought two 2XL size for my GSD who has a very deep chest and they fit well. They keep the the rain and wet snow off his back and they air dry very quickly. The fabric seems to shed water after many uses without needing to be treated with any kind of silicone spray. The price is excellent too!

Verified Buyer

Reviewed by 12Goldens from NC on Tuesday, November 22, 2016

This raincoat is super to throw on my pups for a walk in a downpour. The 2XL fits my Golden, but leaves a bit of her rear exposed. The same size covers my much thinner coonhound a bit more. The L fits my 25 lb muttsy who looks like a Spitz. I was so tired of drying them after 3 daily walks in the rain (=lots of towels) and these jackets have really helped. They are better than most coats since the cover a bit of the chest and belly area. Shoulders, heads, tails and legs still get soaked... Great design features a snap cover for the leash/harness hole cut into the back. Highly recommend!

Verified Buyer

Reviewed by KG from SEattle on Thursday, November 10, 2016

This is a great coat! It has no insulation, which is perfect for my Lab/Chow mix. It is very waterproof and fits well. I love that it covers her chest and belly.

Verified Buyer

Reviewed by SarahBoston from Boston on Thursday, November 3, 2016

You can't beat the price for a good quality coat. Keeps my dog dry! My dog is a 40lb beagle lab mix and I had to exchange the large for an XL though I had done the measurements. It's a bit too long now but it was way too tight on his belly and shoulders before. He's a lean dog! Oh well he's all covered now and it works just great.

Reviewed by Bumbershoot girl from Seattle on Saturday, October 15, 2016

I ordered the extra large for our lab/pointer cross. She is normal weight for her body frame @74lbs. No way did this jacket fit her. Unfortunately the manufacturer did not have any guides to determine which size to order. My dog's girth is 29 inches and I could not close the waist band on the jacket. Nice quality jacket for a smaller dog.