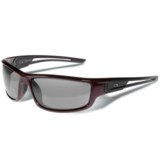 Closeouts. Gargoyles Squall sunglasses provide durable protection after the storm passes. Polarized, mirrored lenses combine with co-injected rubber and TR90 construction for a frame that offers excellent optical protection, flexibility and comfort.
Average Rating based on
1
reviews
5.000000
0
5
Verified Buyer

Reviewed by Burger Geek from Deep in the woods of Arkansas on Monday, May 23, 2016

I'd been looking for a good, comfortable pair of sunglasses for awhile. I wanted something that protected my eyes from the sun and from physical objects. I looked at Costas, Wiley-X, Oakleys, and a half dozen other brands, but none fit all my requirements. I have several pairs of Maui Jim's that I love, but while they are well made and give excellent sun protection, they are a little too "nice" to wear everywhere. I'm always afraid something will happen to them. I wanted a pair tough enough that I don't have to worry about sitting on them or dropping them. Something I can get dirty, then wipe off on a T-shirt.

Then I thought about the old Gargoyles that I use when doing yardwork. Back when The Terminator came out, I immediately rushed out and bought 1, 2, 3, then 4 pairs of what they now call the Classics in various shades. I still have all 4 and while the mirror surface of the blue ones and the gold ones have gotten scratched up, they still look good after 35 or so years.

One thing I should mention, I am an Asian, so my face is naturally flat, and add the fact that I have a big ol' pumpkin head, finding any head gear is tough. Most of my hats are 7-7/8 and tight at that. So you can understand why I was a little hesitant on ordering these glasses, even though they look great on the website. Another bonus is that they seem to be an older, discontinued model, and are priced to move.

When they arrived, I was very impressed by the packaging and presentation. They come in an elegant, but sturdy black box with a subdued logo. The hard case that's included is pretty amazing too. It has a hole down the center so you never have to worry about the earpieces contacting the lenses. Think of a doughnut that's been stretched out. Also include is a nice micro-fiber cleaning cloth.

Now on the glasses themselves. The build quality on them is awesome as well as the design itself. I was a little worried, since I saw that they are no longer made in the USA, but you wouldn't no any better by these. the hinges have a unique design that makes them extremely durable. The lenses are as optically perfect as I am able to ascertain with my eyes. The polarization is as good as my Maui Jim's, and the overall look is very cool.

All this does nothing for me unless they fit, so I was a little nervous when I put them on for the first time, especially since I knew they might be a little narrow after my attempt to measure my temple width. However, I slipped them on, and WOW. They are built heavy, but are so light I don't really notice I have them on. Now with my flat, round, wide face, they do touch my cheeks lightly, but to me this is a plus, as I get really good protection from the wind. The field of view is not at all restrictive, and I was immediately awarded 10 bonus cool points the first time I wore them in public.

The rubber coated earpieces ensure they stay in place without having to clamp on your head like a vise grip, and because of the hinge design, the earpieces really can't press against the back of the lenses unless you force them, so I can fold them up and toss them on my seat without worry.

I had my wife try them as I am constantly having to buy her new sunglasses because, well, she's just plain hard on them. Unfortunately, her face is narrower than mine, so she didn't like the fit as much. However, she was smart enough to see through my clever ploy of getting her to approve me purchasing another set under the guise of them being for her. She was also nice enough to tell me to go ahead and order a back up pair in case I lost them. (Little does she know that I'm secretly planning a third pair so I can have one in each car as well as a back-up pair...hehehe).

Anyhoo...I hope this helps you decide on these. I couldn't find a whole lot of reviews on this particular model, so I hope I help at least one person make up their mind.