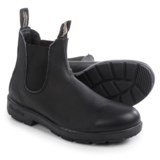 Blundstone Factory 2nds. Blundstone's 510 leather pull-on boots provide a plethora of support and protection, and they're absolutely lovely to look at. The smooth, full-grain leather upper is enhanced with stretchy side gores for flexibility with every step, and built into every shoe is a shock-absorbing Poron® XRD heel insert and toe spring to reduce foot fatigue.
Average Rating based on
15
reviews
4.733333
0
5
Verified Buyer

Reviewed by Jon from North Carolina on Friday, February 3, 2017

We all wear our Blundstones so much that factory seconds don't matter. I can't even find the flaw.

Verified Buyer

Reviewed by Kbest from Canada on Wednesday, November 9, 2016

My boots came within 2 weeks (I'm in Canada). The shipping was a bit expensive but the actual product I'm very happy with.

Verified Buyer

Reviewed by Tricia from Washington on Monday, November 7, 2016

All in all, these shoes have been nothing but great. I couldn't even tell that they were "factory 2nds". They are very comfortable, stylish, and I enjoy the loop on the front of the boot to help put them on. I live in WA so the fact these boots are rainproof makes them that much better. I would highly recommend these boots and repurchase another pair!!

Verified Buyer

Reviewed by Artsy Cat from NYS on Wednesday, October 26, 2016

The shank support, taller and toe box area is perfect for the best all around shoe for my casual and casual dressy life style. I can wear with all my casual clothes and pantsuits from conservative to modern edgy. Podiatrist approved this shoe in lieu of sneakers because of the flexibility of the shoe to be able to walk naturally correct. This is my second pair that I purchased. Although I have multiple foot issues from Morton Neuroma, fallen arches and a slightly wider foot...Blundstone 510 addresses all concerns. Have walked miles in NYC without any issues. Need the tabs to help pull on the shoe but the con is it can stick out from the bottom of the pants leg

Verified Buyer

Reviewed by Lares from Denver, CO on Tuesday, October 25, 2016

I am in love with my blundstones. I have wanted a pair for years and just kept putting off spending the $180 market price for them. When I saw these factory seconds for half the price I had to jump on it. There is nothing about them that screams 'factory seconds'. I wear a women's size 6.5 and the size 4 fits perfectly.

Verified Buyer

Reviewed by flossysuperstar from Brooklyn on Tuesday, October 25, 2016

Super durable and easy to put on. This is my kids third pair.

Verified Buyer

Reviewed by JH from Flagstaff, AZ on Wednesday, October 19, 2016

I totally scored on these. Half price and I think I paid more for my last pair at the Victoria Market in Melbourne. I put a pair of Super feet insoles for support. This my fourth pair of Blundstones. These are not sissy boots and that is why I like them.

Verified Buyer

Reviewed by Rhode Island Red from Rhode Island on Friday, October 14, 2016

I was looking for Blunnies for myself and STP only had super small sizes and larger men's sizes, I bought my husband a pair and he loves them. He wears 9 1/2 wide but the Blundstone 10 worked out great for him. I hope you find this useful! They are great boots, no visible inperfections, Blundstone must have an extremely rigid standard for perfection! Thank you STP!

Verified Buyer

Reviewed by acurose from NY, NY on Wednesday, October 5, 2016

I know these boots are supposed to be seconds, but I can't tell why. They are fantastic! The tricky thing with the Australian/Unisex sizing is converting it to US sizes, especially women's sizes. STP said size 5 was a 7.5womens, but I tried them on at a local store and the size 5 fit me perfectly. I usually wear an 8 and sometimes an 8.5 in US sizing. Also- I read online that the 1/2 sizes in these boots are the wider width, not a longer shoe.

Verified Buyer

Reviewed by Tamara from Delaware on Monday, October 3, 2016

I bought one pair and loved them, so I bought a back-up pair just in case. Love them both. Very comfy!