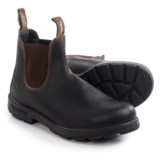 Blundstone Factory 2nds. Lightweight, well made and designed to take on challenging environments, Blundstone's 500 pull-on boots are crafted of premium Stout Brown leather and fitted with a supportive steel shank, shock-absorbing heel, and a durable, oil-, acid- and fat-resistant sole.
Average Rating based on
21
reviews
4.476190
0
5
Verified Buyer

Reviewed by Meg sprocket from Utah on Sunday, November 19, 2017

These boots are awesome; gardening, running errands, in the snow. They are my go-to boot now.

Verified Buyer

Reviewed by Kelly Rogers from Connecticut on Thursday, November 16, 2017

These are the best. Very similar to other pairs I've owned. The leather is a bit tight at first, but they are great!

Verified Buyer

Reviewed by VTMike from Vermont on Sunday, November 12, 2017

Tried these a number of years ago and wasn't able to slide my foot in. Not sure if this is common or unusual, but I thought I'd try them again. First few times take some work, but they're getting better and better.
Wear, on the other hand, is comfortable out of the box and improving each time. I also have received a few compliments.
Hoping that these will be a good, long-lasting addition to my footwear collection.

Reviewed by rogun from USA on Thursday, November 2, 2017

These look very much like a Chelsea overboot I own, except that they have a leather upper and it's a more substantial shoe. The look is very reminiscent of bulbous 90's era shoes. However, I do find claims that they run wide a little exaggerated; at least compared to Doc Martens, Chaco, Born or any brand that runs really wide.

The Blundstone description claims "premium leather" and it doesn't seem to crease easily, even though it's not super thick, either. There's actually a dullness to the leather, which isn't unexpected for a work boot in "stout brown" color. Unfortunately, there was also a large sticker on the leather upper, which left behind some glue residue upon removal. I ripped it off so quickly that I'm not even sure what it said and I couldn't find it for this review.

I didn't notice any defects on the pair I received, although they do appear to have been returned at some point. The "cushioned insole" that Blundstone touts isn't actually much of an insole at all, because it's rather thin. Oddly, the pair I received came with 2 insoles installed. The other was a Dr. Scholl's 3/4 length insole, which I guess was left behind by a previous purchaser. I can see how STP could have easily missed this 2nd insole, since it was hidden underneath the Blundstone insole, but receiving new shoes, with used insoles, is nasty and unclean.

These come in Australian shoe sizes, which seems to be identical to UK sizing for men, but not women. I normally wear a 9.5 - 10 in boots (Chippewa, Clarks), a 10 for dress shoes (Florsheim) and a 10.5 in athletic shoes (Nike, Vans), so I sized down 1 from a 10 to a 9. This was a perfect fit for my smaller foot, but the toes on my longer foot, lightly touch the ends, ever so often. However, exchanging them isn't an option, since STP is sold out in size 10, and I think they'll be just fine. My toes, and heel, still have plenty of room to move around and I think a size 10 might be too big, anyhow. Considering the great price I received on these from STP, I think it's well worth the risk.

In case you're wondering why I'd size up to a 10, rather than a 9.5, well, that's due to something I read. I haven't verified this, but apparently Aussie sizing designates half sizes as wide widths, so a 9.5 would just be wider, without any further length added. A wider boot wouldn't help me, so I'd need to size up to a 10. This is certainly something to keep in mind when trying to size yourself, although you may want to verify this first.

Verified Buyer

Reviewed by runningbare from Florida on Monday, October 9, 2017

Got them recently ,so far I like them no flaws seen.I wear a 10 1/2 or 11 american size.The 10 fits great.They sell out fast for a reason,great price!

Verified Buyer

Reviewed by SSJ from California on Friday, October 6, 2017

The fit took some adjustment getting them on and off, but the boots are a great addition to my wardrobe and will see much use.

Verified Buyer

Reviewed by Jen in Texas from Texas on Thursday, October 5, 2017

I ordered these in a 4.5 for my size 7.5 feet and they fit perfectly! The back of the boot is a bit stiff and I think it would chafe against bare legs, but I plan to wear these with jeans when the weather gets cooler, so I don't think it will be a problem. The color is a wonderful very dark brown, perfect for me because I'm always torn between brown boots and black. This is the perfect middle ground. I also have very wide feet and have a hard time finding shoes that don't pinch. These are wide enough for my feet and don't pinch at all.

Verified Buyer

Reviewed by silversurfshaun from NorCal on Wednesday, October 4, 2017

Got these because I had heard so many good thing about them. They are living up to the hype. Perfect around the farm or house work boots that can easily be slipped off as to not track dirt and debris inside. Sturdy but with a almost casual look.

Verified Buyer

Reviewed by Wendy from Georgia on Tuesday, October 3, 2017

These are very comfy and have a fairly wide toe bed so your feet can sprawl plus have room for thick socks. I don't see any flaws even though they're factory seconds. Way cute with capri length/rolled up pants or leggings.

Verified Buyer

Reviewed by artemis401 from RI on Tuesday, September 20, 2016

Look like they are top of the line, can't tell they are 2nds. Perfect fit and so comfortable. Can't wait for cooler weather!