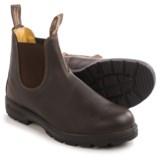 Blundstone Factory 2nds. Blundstone's 550 Chelsea boots combine the classic Chelsea boot silhouette with a casual hiker-friendly design, bringing you both style and performance in one. Smooth leather inside and out with the trademark stretch gores supply a hefty dose of good looks and durability, and a shock-absorbing midsole and insole provide excellent energy return.
Average Rating based on
14
reviews
4.785714
0
5
Verified Buyer

Reviewed by rocket from western Ma on Friday, November 10, 2017

I like Blundstones. I have a few pairs. I work in the woods a lot and am in construction. It's a good lightweight boot that debris doesn't easily get in and it's nice to not have laces, the sole has good traction and is not overly nor underly luggy. I wear an 8 men's USA, so I get the 7 and it fits nicely. I'm average width. Unfortunately, there was a rather large gash on the right toe. It had been dyed and fiddled with but I would never buy a boot with a gash right there. Esthetically it would be a problem and then for work it looks like it would wear out a lot faster. I got a good price and I'll lose money on the return so I am keeping them. I'm concerned that STP has gone down hill with their seconds since TJMaxx acquired them. It's unfortunate. It used to be that STP's policy was that it might be a second, but you'd never know other than that they'd say. I've had numerous products not be up to snuff lately. Buyer beware, I guess.

Verified Buyer

Reviewed by Nikki the explorer from California on Friday, November 3, 2017

The boots looked good. Doesn't seem like a second factory to me. I usually wear size 8 women's but I sized up to 8.5 because I needed to wear thick socks with it. It is still too tight for my feet when wearing thick socks. So I'm not sure if I'm returning it and get another size.

Verified Buyer

Reviewed by Carolinesaliba from Kentucky on Friday, October 13, 2017

The boots are perfect. Sizing chart was a bit convoluted and I couldn't track my package after it left their facility but it did arrive! And timely

Verified Buyer

Reviewed by Steve from Vancouver on Monday, October 9, 2017

Beautiful boot, rugged yet comfortable, may take a day to break in, a little snug across the top of the foot, but a day is all it takes to stretch it out.

Verified Buyer

Reviewed by runningbare from Florida on Monday, October 9, 2017

I have been wanting these for a long time,finally had them in my size..The color is great for casual wear.To nice for working in so I got a pair of 500s for that.Both pair fits about the same the 550 might be a little roomier..

Verified Buyer

Reviewed by Elena from New York on Thursday, September 28, 2017

Great deal of a fabulous boot with a tiny blemish. If you are looking for a fashion perfect boot don't buy a factory 2nd. But if you are going to put these babies to work as they are intended then who cares. This is my 3rd pair. First pair resoled and still in use. Blundstones are a great choice.

Verified Buyer

Reviewed by STP mom from California on Wednesday, September 27, 2017

Plus they had the toddler matching boots so my son andI can match!

Verified Buyer

Reviewed by Melissa from Tennessee on Wednesday, September 27, 2017

The boot it self seemed nice and comfy but I ordered a size 38/8 and am normally a size 8 but they were very small. Sierrra trading company didn't have the next size up so I ended up selling them to a friend.

Verified Buyer

Reviewed by Paula the Prude from Oly Peninsula WA STATE on Tuesday, September 26, 2017

Exactly what I wanted a pair of brown Blundstones just like my black work pair! Perfect! Use NikWax to preserve leather. Only difference in these and my full price black pair which cost twice as much were no NikWax- and no Blundstone box. they give you a small sleeve of Nik Wax to preserve the boots when you buy as non seconds from a retailer.. You can get that at most any ranch supply store in the bottle form so all your foot wear is preserved.

Verified Buyer

Reviewed by Sweb from Ca on Monday, September 25, 2017

The Brown had fewer imperfections than the black. Near perfect no issues with second. Great pair of rain boots at the STP price.