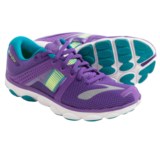 Closeouts. Brooks' Pureflow 4 running shoes give a cushioned, lightweight ride thanks to the BioMoGo DNA midsole's custom comfort. The Pureflow 4's flexibility allows your foot to move naturally with each stride, and the rounded heel helps the body align properly for a more efficient stride.
Average Rating based on
19
reviews
4.473684
0
5
Verified Buyer

Reviewed by Leslie from Nebraska on Friday, December 2, 2016

I enjoy the shoes, they are comfortable. My only 'complaint' is that my left shoe gets a dimple in it when I walk. I can feel the shoe tap my toe when I walk.

Reviewed by Motherrunner from NC on Monday, November 14, 2016

I have purchased two pairs of pureflow back to back and have loved them! I run 5Ks and have done one half marathon in May (and am scheduled to do another in December). These shoes are lightweight but also feel like they provide a great deal of shock absorption. My 8th grade son runs XC and loves Pureflow as well. Great Value! The bottoms do wear out in a somewhat unusual pattern, but I feel like I have gotten my money's worth by the time they do!

Verified Buyer

Reviewed by Sandra from FL on Thursday, November 3, 2016

I love Brooks PureFlow 4. Perfect for those runners who like the feel of a lighter shoe but are looking for just a bit more structure and support

Verified Buyer

Reviewed by Floridagal from Florida on Thursday, October 6, 2016

These shoes conform to my feet--I especially like the heel to toe drop of 4mm, which puts my heel closer to the ground--I hate thick soles that make me feel like I'm standing on a platform . I am not using them for running, so I don't know how they perform for running, but I love them for daily wear. I have Purecadence 3 shoes, which I like even better than these, but they don't make them any more, so I bought these--they are fine. I went up a half size, as the shoes are snug--I wanted to wear thicker socks. The color is okay (my Purecadence 3 pair is white with pink trim, which I like better). Overall, I am very pleased with these shoes.

Verified Buyer

Reviewed by Sandra from NYS on Tuesday, September 27, 2016

I have been wearing a minimalist shoe for several years. I put this new pair on and went on a long run and forgot I had new shoes on. I love this shoe because when I put them on, it feels like my feet are getting a hug.

Verified Buyer

Reviewed by Dog trainer from Texas on Monday, August 29, 2016

Hate they redesigned them again. This incarnation is awesome

Verified Buyer

Reviewed by Tara from West Virginia on Thursday, July 7, 2016

Brooks never let me down. These shoes are slender, light, and have the perfect amount of arch support. When I run they even make a very satisfying sounds when they hit the pavement, sounds odd but everything about them is just right! I wear an 8.5 or 9 usually and these fit perfectly at a 9.

Reviewed by MountainView from Boston on Friday, July 1, 2016

I've been a Brooks fan for years, so was really looking forward to receiving this style. Lots of cushioning, feels like walking on air. After one day, however, my knees and hips were in pain and I simply couldn't wait to take them off. I'm chalking it up to being 30 lbs. overweight. I've put them aside and will try again when I've hit my target weight. Big disappointment.

Verified Buyer

Reviewed by Hannah from Colorado on Thursday, June 30, 2016

When the pureflow was first released, I ended up buying 3 pairs in a row because they were such a good shoe. They have medium amount of cushioning, wide toe box, minimal heel to toe drop, and they are comfortable. With the PureFlow 1, I went injury-free for ~3 half marathons. Then, when the design got drastically changed for the PureFlow 2, I was extremely disappointed. For this reason, it was exciting to see that the design for the Pureflow 4 goes back to the things that made the pureflow great in the first place. The 4th edition shoes did not disappoint - they are comfortable, roomy, and fit like a glove. I loved them so much that I ordered a second pair when I saw they were on sale again! Grateful to Brooks for resurrecting my favorite shoe!

Reviewed by MountainView from Boston on Friday, June 24, 2016

I've worn Brooks for years, but these shoes nearly killed my lower back and knees. They are super-comfortable with plenty of cushioning, but after a couple of days of wear, I had to give them away.