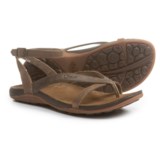 Closeouts. Strappy-gorgeous style in a sleek and comfortable feminine silhouette! Chaco's Sofia gladiator sandals have it all, thanks to the unique upper design and anatomic LUVSEAT® footbed.
Average Rating based on
13
reviews
4.384615
0
5
Verified Buyer

Reviewed by Sou from Olympia on Tuesday, July 5, 2016

Look good and comfortable

Reviewed by Min from Tucson, AZ on Thursday, June 2, 2016

I typically wear a 7.5-8, and I would have heeded STP's advice and ordered an 8, but at the time 7 was all that was available. Took a chance on the 7 and I'm very glad I did-- the fit is perfect and they're just adorable. Not quite as much arch support as the more heavy-duty sport sandals, but enough to keep my feet happy even during my current flare-up of sesamoiditis. I read a bajillion reviews all over the internet before ordering these, and had some concerns because several people mentioned rubbing where the back straps come together, but I've had no trouble at all. I wear the ankle strap just a bit loose, so that may be the key.

Verified Buyer

Reviewed by Grayfeather from Driggs, Idaho on Friday, May 6, 2016

My shoe size is usually an 8, although I've worn anything from 7.5 to 9.5, depending on the brand. My feet are proportionately a bit short and a bit wide. In Chaco sport sandals I am a solid 8. Initially, I ordered a size 9 in the Chaco Sofia Gladiator sandal because 8 was not available, but they were way too loose, both in length and width. Since the 9s were so loose, I decided to try size 7. At the time I was placing my order, an 8 became available, so I ordered that as well. Right off the bat, the 7s felt more secure on my feet, but the footbed itself was a bit narrow in the toe area (my toes sort of overlapped the edge just a bit.) The length felt a bit too short, and I could tell the strap that goes between my big toe and second toe was going to be uncomfortable after a bit of walking. The size 8s felt a bit too loose, mainly in the width, but I think these shoes are meant to fit like flip flops. Ultimately I chose the 8s, knowing that in the summer my feet tend to swell a bit when they are hot. (A 7.5 probably would have been perfect for me in this shoe, which is a size to a size-and-half smaller than my usual size.) I love the style- pretty fancy for my usual taste, but still casual enough for my non-fancy wardrobe! Footbed is sturdy and comfortable, but I wouldn't want to hike in these sandals for lack of support.

Verified Buyer

Reviewed by Luke's mom from Coupeville on Friday, May 6, 2016

These are well made. They are stylish, not clunky like other Chacos. True to size. Nice green color. Purchased at 30% off....otherwise kinda spendy.

Verified Buyer

Reviewed by The Shoe Lady from Ohio on Thursday, May 5, 2016

Very comfortable and very cute!

Reviewed by Gumper from Cottonwood Heights, UT on Saturday, April 30, 2016

I wear a 7 usually, have this in a 6; the 7 was much too wide & loose on my narrow, low-volume feet, the 6 fits great. These are very comfortable right out of the box and are very cool looking. They have a more hip look as opposed to the sportier Chacos which I also own. I would like the other color but can't qualify the need at this point.

Verified Buyer

Reviewed by Christa from Tennessee on Friday, April 29, 2016

They fit perfectly and are very comfortable.

Reviewed by Ginger from Hartford, CT on Thursday, April 28, 2016

I was so hoping these would work out. They did not. First, I ordered a size 10 and a size 9. My foot measures 10D and I have happily worn Chacos in 9W. So I found out this time that the smaller size was perfect in length. I had to go a full size down. Even though it is listed as a medium, the width of my foot was not a problem. They were very comfortable and cute. Almost perfect.
The problem came when I tried to walk across the kitchen floor. The heel does not stay on, because the straps are kind of funny. I could not stand how unstable the sandal was, but if the same shoe were available with more intelligent straps that kept my foot on the sole of the shoe, I would buy them in every color available. Oh, well.

Verified Buyer

Reviewed by Jane Doe from USA on Monday, April 25, 2016

Although these are cute, Chaco sandals seem to have gone down the drain in consistency and quality over the last few years. Once again I found that the straps for the right and left were not of equal tension and thus the fit was very different, so different that I needed to return another pair of Chacos. Sometimes they get it right, but sometimes doesn't work for online shopping.

Verified Buyer

Reviewed by carpwander from Maryland on Monday, April 25, 2016

I have many pairs of Chacos, but this was my first "fancier" looking pair and they are awesome. My standard size fit great and they are super comfortable right out of the box. I have narrow boney feet and they fit well.