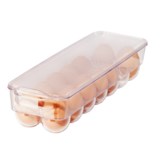 Closeouts. For cooks who can't seem to have enough refrigerator shelves, organizers like OGGI's Stackable Refrigerator 14-egg tray is a helpful solution in BPA-free composite. Built-in handle glides out easily.
Average Rating based on
10
reviews
4.400000
0
5
Verified Buyer

Reviewed by Andrea from Ohio on Tuesday, March 13, 2018

Worked well, nice and sturdy until it went in the dishwasher by accident. Totally warped both parts

Verified Buyer

Reviewed by MrBill from South Carolina on Tuesday, February 13, 2018

I was a little hesitant to buy an egg tray but I'm glad I bought this one. Easy to load and so far so good. No broken eggs.

Verified Buyer

Reviewed by Kirtlye from California on Tuesday, December 26, 2017

A very classy way to store your eggs in the refer. Durable and easy to clean....love it!

Verified Buyer

Reviewed by judythbow from St Louis on Tuesday, August 8, 2017

It's a little awkward getting eggs out. I find I have to remove the whole container and I know I'm going to drop it one time. But it's nice to be able to see how many eggs we have at any time.

Verified Buyer

Reviewed by Camper Girl from Washington on Monday, July 24, 2017

I got these because I buy the 24 pack of organic eggs at Costco and these are so much easier to deal with and I can more easily split the pack with someone. The top does not clip on, it's loose so beware. Having 14 slots is odd. If I can ever get back to raising chickens again I'll get more.

Verified Buyer

Reviewed by huja from SFO on Sunday, August 28, 2016

Fourteen is a strange number for an egg tray. And what's more, it makes the tray a bit too long to fit on some 'fridge shelves if oriented front-to-back. If would have made sense it this held an even dozen eggs and was an inch shorter.

Verified Buyer

Reviewed by rsgobo from Yardley, PA on Friday, May 27, 2016

We belong to a CSA and return the egg cartons each week when we get our new dozen, as does all the other members. So after a while these reused egg cartons become, well, kind of creepy. So transferring the eggs into a cleaner container, that's in my fridge, seems more appropriate. Pretty much a win win for both sides!

Verified Buyer

Reviewed by DeniseS from WA State on Monday, May 16, 2016

Much better than storing boiled eggs in small containers and forgetting which ones are the oldest. Sturdy, stores well. The lid sits on top instead of closing, and there's a small gap on the sides (seems to be on purpose). Hasn't caused a problem with the freshness of the eggs that I've noticed.

Verified Buyer

Reviewed by happy old man from Cushing Oklahoma on Monday, May 9, 2016

This is the best product found for egg storage and handling regardless of egg size. Not flexible makes it easier to handle and get eggs in and out of the fridge and withe the lid off real easy to put eggs in and out. Design cradles the eggs really nice, and the flat lid allows you to stack other trays or what ever you need on top and being clear you can see just how many you have with a quick glance. Lover the Egg Tray so much I went back and bought 2 more. A true safe and easy way to handle eggs no mess no fuss no breakage either.

Verified Buyer

Reviewed by plasticmom from pa on Tuesday, March 22, 2016

I love my OGGI!! I have 15 pastured hens, and I was running out of containers to put them in. These are great! Sturdy, washable, and hold 14 eggs instead of 12. My only caution is that you have to be very gentle transferring eggs into it. I've cracked a few getting used to the hard plastic instead of a soft egg carton.