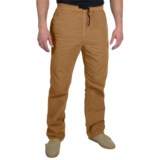 Closeouts. Prewashed for immediate comfort and built for wear of durable cotton twill, Gramicci Original G Dourada straight-leg pants have a unique look and features you'll rarely find in any other bottoms.
Average Rating based on
323
reviews
4.198142
0
5
Verified Buyer

Reviewed by Shaw11b from Montana on Saturday, October 14, 2017

I owned a few pairs of these when I was younger but had since switched to synthetic materials for outdoor activities, but I'm always disappointed on how quick they fall apart. So I'm gonna give these a go again and see. Plus the price makes them much more affordable to replace.

Verified Buyer

Reviewed by James from SLC UT on Friday, August 4, 2017

Great quality- amazing price. Thanks STP!

Verified Buyer

Reviewed by comanche from Manchester, CT on Thursday, July 27, 2017

I love Gramicci pants for hiking and hanging out. I am a woman, and these pants without a fly in front are easy to get on and off. The fabric is extremely durable, and the gusset in the crotch makes climbing and sitting very comfortable.

Verified Buyer

Reviewed by John from Colorado on Monday, July 3, 2017

This is not the first pair of Gramicci pants that I have owned. I buy them mostly for their comfort. The gusseted crotch makes these pants amazingly comfortable. Fit seems to be accurate as well. I wish I could get more variable lengths. I need 31 inch and was only able to get 32 inch length, but I can ignore this due to the many features of the pants.

Verified Buyer

Reviewed by Cloudwatcher Girl from Sierra mountains in California on Monday, May 29, 2017

I have ordered these before because they are comfortable, roomy without being baggy, easy on and off, durable twill that is
perfect for walking where there are ticks (easy to see them on lighter colors), nice deep pockets....So much better than the
women's pants which apparently are cotton/stretch fabric. They wash up just fine, air dry or dryer . I bought two because
the good stuff always gets "improved" (translation: changed).

Verified Buyer

Reviewed by The Shrewsbury Kid from St. Louis, MO on Thursday, May 25, 2017

I've had several pair of these pants over about 20 years, but this is first one that fits! My fault, there: I kept sizing up to M and just now, having read the reviews, decided to size down and not freak out when I had to struggle a bit to get them over my hips. The sizing down has solved the pant-drop and slippery-belt problems that other reviewers have noted. In fact, the usefulness of those reviews is why I'm writing this one, most of which I copied from my review of the Rocket Dry pants.

Apart from the sizing, my only complaints about these pants, over the years, has had to do with the pockets and the pants essentially coming apart after repeated washings. However, I gave 5 stars because I'm really not sure what's a reasonable life expectancy for pants like this. Three years? Five years? I'm thinking that I might try line drying this pair, to see if it helps with the wear over time.

One other thing: although the sizing down has helped with the slippage problem, I really do wish that Gramicci would go back to the sturdier webbing on the belt—the current one really does slip pretty badly.

Overall: great pants at a fabulous price point... if you can get free STP shipping!

Verified Buyer

Reviewed by izzie4real from Santa Fe, NM on Tuesday, April 18, 2017

I have been using these for rock climbing, hiking, cycling and a comfortable pair of pant for hanging out at home in. Really comfortable, no zipper. Built in belt in waste band, 3 pockets. Simple design,durable cotton. The shorts are also really good.

Verified Buyer

Reviewed by Grandpa Mac from Colorado on Monday, February 27, 2017

I'm a middle aged man who spends most of his time in jeans. But when I'm not in jeans and boots I'm on my Gramicci's. I but 4 or five pair and wear them till they're rags.

Verified Buyer

Reviewed by las30 from California on Thursday, October 27, 2016

I ordered these for my son and he loves them so far. I really like the built in belt.

Reviewed by scrittitrader from Vermont on Sunday, October 23, 2016

These are as great as everyone says - nice heavy, soft material - solid and comfortable. Love.