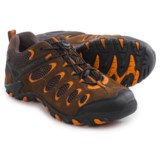 Closeouts. Merrell's Vertis Ventilator Stretch hiking shoes bring impressive support to a low-cut, extra-breathable design. The mesh upper features supportive suede overlays and convenient single-pull lacing; the Sticky Rubber sole features an Air Cushion® heel for shock absorption.
Average Rating based on
11
reviews
4.363636
0
5
Verified Buyer

Reviewed by Vlad from Italy on Wednesday, January 25, 2017

This is my 3rd business dealing with Sierra Trading as I find the company's service as top of the line; from pricing, promptness and quality of customer service. The design is great and can be worn even on casual clothing. This model seems to maintain the well-known Merrell quality which I admire. Durability is also evident and just like my other Merrell, I expect this one to last me for quite a long while. The only recommendation I have with Merrell is that the insole seems to be sturdy and lacking the cushion support recommended for the knees. To fix the problem, each and every Merrell pairs I own have a Dr. Scholl gel pads. They are a bit pricey but you can actually feel the difference in comfort and performance. Overall, another great product from Merrell.

Verified Buyer

Reviewed by JusDucky from Pennsylvania on Wednesday, November 23, 2016

These Merrell's are Awesome. Sizing is right on. Love the zip line instead of laces. Never need to retie your shoes. Solid bottom for gripping while comfortable for walking or even light hiking all day. Just may buy a second pair since my two yellow labs slobbered on my new pair.

Reviewed by JusDucky from Pennsylvania on Sunday, November 20, 2016

Absolutely love these. Didn't take long to become my go to shoe. The draw cord rather than laces never comes loose and have to be tied over and over. Great traction, comfortable, light, and cool look too! I would absolutely recommend these.

Verified Buyer

Reviewed by Happy hiker from NC on Monday, November 14, 2016

Have had other similar shoes my Merrell and loved them. These fit my foot and have more room in toe box. Lots of cushion in insoles. Like to use on easy hikes or walking shoes on natural material pathways. Size is spot on. Merrell rarely disappoints. Great buy for the money!!!

Verified Buyer

Reviewed by Gary from Huntsville on Monday, October 10, 2016

Initially iI thought these shoes were going to be great, but sadly I was mistaken. During only a 3 mile hike, the sock liners started to slip and literally slide out of the back of the shoe. I had to tape the sock liner in the shoe and it still shifted during other short hikes. I tweeted about this problemt to both STP & Merrell, but no response.

Verified Buyer

Reviewed by jd from houston,texas on Sunday, October 9, 2016

The shoes have comfort after putting them on.
Laces are ELASTIC IS PUZZLING TO TIGHTEN ON FOOT.
The arch support is minimal but the real puzzle is the putting on of this low hiker:
Just who admires the closed top with elastic laces ?
The shoe is OK for "clearance item" but elastic laces?
Firm fir requires a hard tie or at least a firm lace or tightening mechanism.
I'll wear these "clearance item" shoes but will always puzzle at who thought up the elastic laces with a closed foot entry point as a positive feature.
Likely, I hope, to change to a string inelastic shoe lace if the shoes last that long, but I will wear them for short walks in woods.
Soles seem well attatched and unknown as to marking tendency. I will keep them but not buy another.
I use arch support or heal cushion for trail walks and these need them.
They are not my only low hikers.

Verified Buyer

Reviewed by Kergs from IL on Monday, October 3, 2016

Light and comfy

Verified Buyer

Reviewed by Skurj from Idaho on Wednesday, August 31, 2016

I always have a pair of Merrell stretch shoes of some type. I love the convenience and comfort. As with most slip ons the heel tends to slip on me, but I expect that. I would never trust a slip on shoe on a hike because of the loose heel fit and they are pretty heavy but use these for casual around the town use. This style has a really odd color scheme with the orange being very bright and strange looking, but for the price.......

Verified Buyer

Reviewed by CO Flatlander from CO on Thursday, August 4, 2016

This is the best summer shoe I have ever worn, cool as a sandal, with support and protection. I do HVAC Service and I move fast when its hot. What a relief to find this shoe! A++ Still my Fav shoe up at the cabin in the Rockies too! Great hikin shoe!

Verified Buyer

Reviewed by CO Flatlander from CO on Wednesday, August 3, 2016

I do Air Conditioning service so I move fastest of the hottest days, Ive always had trouble with my feet over heating and sweating. These offer plenty of protection, but also are as cool as a sandal. I really enjoyed um for my weekend in the mountains too. They got soaked in a river crossing and dryed quickly with no damage. A+ summer shoe.