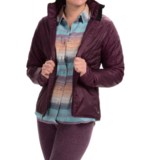 Closeouts. A quilted and insulated jacket that doesn't invoke images of puffed-up marshmallows? We're on board! The Toad&Co Airvoyant jacket is insulated with PrimaLoft® Gold for outstanding warmth without the bulk. It flatters your figure with angled baffles, and it packs into its own pocket for convenient travel.
Average Rating based on
7
reviews
4.285714
0
5
Reviewed by Zena Warrior Princess from New York City on Saturday, December 24, 2016

Boy, was i sorry to return this. I had to seal it up and leave it in our mailroom at work so i wouldn't be opening the box imagining i must be wrong and it DID fit. For me, just way to tight around the shoulders and upper back. I have an athletic build so the body was amply roomy meaning no chance that a size up would work. Darn. It's a great jacket. Soft soft shell, i could feel the windbreaking warmth immediately. I bicycle commute daily so this was my wish for an everyday winter layer with a merino underneath. i would have kept it even tight across the collar bones -- i reasoned i didn't have to have it zipped up all the way -- but the breaker was when i leaned over in bike position and it pulled across my upper back.
Great jacket and an unbeatable bargain if you size well in it. I tried the purple btw. Gorgeous color, but i would buy this jacket in any color if it worked.


Reviewed by Campgirl64 from Utah on Monday, December 12, 2016

This is an update to my above post which states how ultra thin the coat is. Recently I was up at Flaming Gorge recreation area. The temps at night were about 15 degrees and snowing and about 25 degrees during the day. I wore a base layer of a light weight smart wool and a t-shirt under the coat. We went for a nighttime walk (about 15 minutes) in the snow. This coat kept the dampness of the snow out and kept me warm and dry. We did a daytime hike, about 1.5 miles and I was actually sweating and had to unzip to let in some air. In saying that, this is an awesome coat. I would highly recommend it.

Reviewed by Ski in VT from Vermont on Tuesday, December 6, 2016

Purchased the black jacket in medium. I'm 32 yrs old, 5'6", ~145 lb, 36B, generally a size 10 pant. My clothing style tends toward basic pieces with accent accessories or patterns. I'm very average in sizing, I don't have long/short arms, or a long/short torso. I find that I'm usually a medium in outdoor clothing brand tops, no difference in this jacket. I live in VT, ride my bicycle to work daily, ski in the winter and hike in the summer. I expect to use this jacket for all of those activities.

Jacket fit/look: The sleeves hit where I expect (the top part of the cuff extends to the base of my thumb, the bottom part at my wrist. The jacket hits about two hand widths (including thumbs) below my belly button. The shoulders are not tight, I can stretch my arms over my head without feeling constricted. That being said, it's not stretchy fabric, so I wouldn't think of this for climbing. It's been great for biking to work so far. The upper sleeves are more spacious than the lower sleeves, and you can see that slightly when wearing the jacket. I don't think it it makes a huge difference, but you can see it. The height of the collar is just over 3 inches, it's nice being able to snuggle my chin into it. Overall, I like the look of the jacket and feel that it goes well from the outdoors to the city.

Warmth: It's holding up to temperatures in the 30-35 F range quite well with a light-mid weight long sleeved base layer underneath. I'd definitely layer up more if it gets any colder than that or if it's really windy. Definitely does a better job of blocking wind than my softshell jacket does.

Cons:
- Fill leaks (but I've come to expect that out of any lightweight puffy, at least the synthetic fill doesn't stab you when it escapes like down does!)
- No cinch cord for bottom of the jacket (I like cinch cords, I know not everyone does)

Pros:
- There's hidden elastic cuffs in the sleeves to help keep warmth in
- Jacket stuffs into its pocket easily (it's on wearer's right).

Reviewed by Campgirl64 from Utah on Tuesday, December 6, 2016

This is a really nice looking jacket. I got the blue and love the color. The fit is perfect, I am 5'2" and weigh 130 lbs, I ordered the medium and have room for layering. PermaLoft is suppose to be one of the warmest down alternatives, problem is there is hardly any of it in this coat. It is super super thin. I put it on last night and went outside, 20 degrees out. I could feel the chill coming though the coat. It would work for a short period of time, but not for being out in the cold for any length of time. I will definitely be layering with smart wool etc.. to keep warm in this. Thought about returning it, but it is a really cute coat and I need something for this weekend. It stinks that I will have to pay out more money for a heavier winter coat. Guess that is why it is labeled as a "jacket"... however it did say insulated which is an overstatement.

Verified Buyer

Reviewed by Sadie B from Virginia on Saturday, November 19, 2016

This jacket is wonderful. It's extremely lightweight, great at keeping me warm, and the indigo blue is a really nice subtle color. It goes with anything!

Verified Buyer

Reviewed by Sadie B from Virginia on Saturday, November 19, 2016

This jacket is wonderful. It's extremely lightweight, great at keeping me warm, and the indigo blue is a really nice subtle color. It goes with anything!

Verified Buyer

Reviewed by mercie2009 from colorado on Thursday, September 29, 2016

i use this jacket on wild land fires doing the end of the season when it is really cold in the mornings, this jacket is perfect, true to fit, packs light and keeps me warm. Not too puffy. very happy with this jacket.