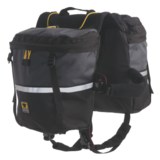 Closeouts. This quality dog pack has great Mountainsmith features and performance; it allows your best friend to tote water, food and accessories with ease.
Average Rating based on
130
reviews
4.253846
0
5
Verified Buyer

Reviewed by Flashlight afficianado from CA on Wednesday, October 25, 2017

Although I would like a bit more padding (Wenaha packs just can't be beat), this is a very nice pack for the price. Animal (dog or goat) seems comfortable with it. It sits well at shoulder, and doesn't bounce against kidneys.

Verified Buyer

Reviewed by Flashlight afficianado from California on Saturday, August 19, 2017

It doesn't have the padding or versatility of a Wenaha dog pack, but for the price, it is unbeatable. Well made and doesn't rub the shoulders. Sits well on animal.

Reviewed by Christina from Missouri on Saturday, January 3, 2015

Bought this for my 90# lab (she has a tall/large frame) and it fit nicely in a medium. We made sure to pack the weight even and give her a chance to get used to it, but for her first time wearing a pack ever it worked great and she didn't seem to mind it at all. We took a three night backpacking trip and it held up to her adventures well, no tears/breaks etc. Occasionally I would readjust the padding on the straps as it would slide around. That's the only thing I think could be made better- solid padding on the straps, or I could just sew it down so it doesn't slide. Overall it was an excellent buy and product!

Verified Buyer

Reviewed by dropkick from Oregon on Thursday, November 13, 2014

I've had a few different brands of packs for my dogs over the years and most of them cost significantly more than the Mountainsmith. This thing is bombproof. All of the closures and strapping are very well placed and constructed. The reflective tape sewn in is an added bonus as well.

Verified Buyer

Reviewed by Jerry and Buddy from Massachusetts on Monday, October 20, 2014

i am overall happy with this pack.
The bags are well made, and thought out.
The top attachment points for items is good, as well as the inside pockets.
However. The rearmost strap is a made for dogs with no waist.
Does not fit a foxhound or a treeing walker very good in the back.
Did come up with a solution of sorts. Just crossed the straps.

Verified Buyer

Reviewed by Sarah from Minneapolis, MN on Monday, August 18, 2014

After researching other brands and makes that hovered around the $80-120 price point, we came across this MountainSmith one. We tried a ruffwear pack on our dog, but didn't like the way it sat on his back. This Mountainsmith makes it look like our dog is wearing saddle bags and they sit perfectly on his upper back without rubbing his shoulders or sliding back; easy to adjust and get comfortable. You can also tighten up the slack on the saddle bags for less bulk. There's a nice handle for assists in scrambling (used a lot this weekend while climbing) and a convenient leash attachment. It also has a few more pockets than other options--such as a top mesh bag for easy acces to (empty) poop bags and treats.
Take a few walks at home to get your dog used to it before hiking, or carrying heavier loads. (Our dog sat down the first time we put it on with a "so you expect me to move now" expression but got used to it pretty quickly on the trail.)

We've gone for a few hikes now and it fits water bottles on either side, food and toys. It will be really nice for backpacking as well.

We got the MEDIUM. Our siberian is 62 pounds. Fits perfectly with room for adjustment either way.



Verified Buyer

Reviewed by Sharon from NC on Monday, May 12, 2014

The pack appears to be an excellent product. We purchased the medium for our 50 pound dog and it was too large. We will look for the same pack in a smaller size.

Verified Buyer

Reviewed by Anonymous from Colorado on Wednesday, April 30, 2014

This is my third Mountainsmith Dog Pack. That doesn't mean they aren't well made, which they are, it means I like them so much I want to buy them again. My first one was awesome, I backpacked quite a bit with my dog and she wore it well. Sadly, it lasted longer than my dear dog. I found a new dog in my life who loved this pack as well. Bad news, someone stole it from my can and I immediately knew I wanted another. I bought a new one and it has lasted about six years and it's been through a lot, all seasons and weather. The pack itself is still good it's just the straps that have worn the most having the most exposure.

PROs: compression straps, burly zippers, capacity, strong handle. My previous dog went into a muddy water hole and couldn't get out. I grabbed that handle and rescued her. I use the handle to boost her when I'm climbing or pull her up a rock. It's a great way to control her as well. The mesh top pocket is ok. The D-ring is awesome is seems very strong. The bungee on top is not that use full to me.

CONS: The velcro strap closure on the mesh top pocket doesn't have enough on it so that you can fill up the pocket and thus isn't secure. I keep the leash in it attached to the d-ring and it's about good enough for that. I has no sternum strap running from the collar to the chest strap like other packs. This makes it easier to shed the pack, which some people thing is a good thing for the safety of your dog. My dogs have lost the pack on rare occasion, mainly from snagging it on a branch or jumping down something very steep. I don't think that's a serious con, but it is a difference between this and other packs.

My 43 pound healer dog can carry her meals for four or five days, her sleeping pad, down and rain coat, water, treats and leash. That's about 7-8 pounds which is a lot for her, but she's been trained with it and I carry it for at times to give her a break when it's that loaded, Sometimes I just attach it to my pack to give her a break and it's easy to do with the dog packs chest straps and the d-ring.

Verified Buyer

Reviewed by Fred from MD on Saturday, April 5, 2014

Great deal fits Eddy well and he seems to enjoy it.
Thanks

Reviewed by raghorn from Idaho on Sunday, January 12, 2014

I have had a couple of these bags for my labs for years now. Very good fit, durable. The two I just bought, and am reviewing, were to convert to saddle bags for our bicycles. They converted very easily, and work great! Best of all, about $100 or more less than "bike" panniers!