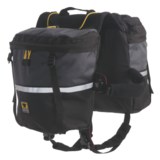 Closeouts. Sized for spaniels and terriers, this dog pack has Mountainsmith high-performance features; it allows your best friend to tote water, food and accessories with ease.
Average Rating based on
116
reviews
4.060344
0
5
Verified Buyer

Reviewed by Monster (the dog) from North Carolina on Saturday, December 13, 2014

I am pleased with this pack, it came in a timely fashion, is attractive(which we all know is important to our dogs), and appears to be well made. I have a pit bull (med. size) who is all muscle but trim. Although skeptical, after reading other reviews I decided to order the small-its fits perfectly. I did measure him like the instructions on the site said and he measured right on the s/m line. If I had ordered a med. however I feel that it would have been too big and slid around making the pack uncomfortable to carry. The small works great with even a bit of room for adjustment in the straps. My only complaint would be that the packs are a bit on the small side. They are perfect for day hikes but if you want to have your dog carry some gear for a weekend camping trip there would be room for his food, water, etc. but not much else. All in all I, and my dog, are pleased!

Verified Buyer

Reviewed by Anita from Nomad on Monday, September 22, 2014

Got the small for our golden/Aussie mix (48 lbs) and it fits great!

Verified Buyer

Reviewed by cneajna from Texas on Monday, September 15, 2014

We purchased this for our Pom. Fits her perfectly and she looks great in it.

Reviewed by sparklepoop from Arizona on Monday, August 4, 2014

as other users stated, the buckles are not perfect and we got a dud one (partner ordered it) and the pack was gone on hike #2! and not found.....
cannot recommend this because of that.......

Verified Buyer

Reviewed by Aussiemini from WA on Wednesday, July 30, 2014

My dog always seemed comfortable carrying her Kelty pack, even when fully loaded. Not so with this pack, even when the weight does not exceed that of the Kelty. I believe the problem is the width across the shoulders, between the panniers--5" for the Kelty, only 3.5" for the Mountainsmith. This does not allow the panniers to hang naturally, placing undue pressure on the ribs.

Other than the problem mentioned, the pack appears to be well made. If you have a real narrow bodied dog, this may be the pack for you.

Reviewed by MCat from Bend OR on Sunday, February 2, 2014

I really was excited when this came in the mail. But I ended up having to return it. Because the front clasp was broken. Bummer.


Reviewed by Larissa from Bay Area CA on Tuesday, January 7, 2014

It took some treats to get my boy to walk around with it, but now he loves it! I have a 50lb shaggy beast of a dog. He LOVES walks and loves this pack. I bought the small and it fits him perfectly.

Reviewed by Working outside from Colorado on Tuesday, September 24, 2013

This pack works great to carry stuff. However, it is advertised as having a D-ring to attach a leash to. The D-ring is plastic and the pack is not built to withstand pulling against a leash. The first time I tried it with my dog as soon as she pulled on her leash the clip on the front strap pulled apart and she pulled right out of the pack, leaving me holding it along with her leash. It's a good thing there was not a dog near us or I would have had an injured dog and a lawsuit on my hands. Do not attach a leash to this if you have an aggressive dog who pulls or it will be a major liability. I have to use a dog collar for leash attachment and still use the pack for carrying items but the leash and/or collar tends to get stuck under the pack. To summarize-this could have been made better.

Reviewed by Mary Kate from Indiana on Thursday, August 29, 2013

I am hoping my dog will come around to this product, it just seems too big for him. I ordered the smallest size, but it still slides and the second belly strap an pulled the tightest it can go. He is a Bassett hound mix weighing 40 lbs. We will keep working on it, both he and I the adjustments, to hopefully find a way to use it comfortably.

Reviewed by Ashley from Massachusetts on Thursday, August 8, 2013

I bought this pack for my 52lb cattle dog mix to wear while hiking in the Adirondacks. It fits him well, and the pack remains stable on his body, even in rugged terrain. The fleece covers ensure that the straps don't rub at his skin. Even though the pack is spacious, it's not unwieldy - a high quality pack at a great price!