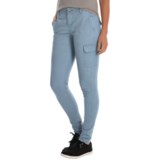 Closeouts. Durable enough for climbing, soft enough for traveling, Mountain Hardwear Sojourner Twill cargo pants are a go-anywhere, do-anything addition to your active wardrobe.
Average Rating based on
6
reviews
2.666666
0
5
Verified Buyer

Reviewed by MI T K C from Az on Tuesday, June 6, 2017

Comfy, sized right and attractive.

Verified Buyer

Reviewed by Corty from International on Tuesday, February 14, 2017

The good is, great fabric, lovely color, excellent feeling fabric. The bad is, the absolutely worse fitting pants ever.
The faults of the fit? There is absolutely no room in the rear, the pants are basically flat in the back. The back rise is too short, the hips to wide at the lower hip. too loose just below at the top the thigh, too tight and binding mid thigh. Theses pants were not cut to fit a western woman.
The cut would indicate that the pants were fit on an Asian body type. Different ethnicities have different shapes. Fit depends on the pattern the company used. The pattern depends on the typical body type used as a basis. The pattern for the average woman of western ethnicity has a rear end, medium hips, medium thighs, medium waist. Cut for a French woman tends towards narrow hips, English tends towards pear shape, Latina towards a generous rear end. There is no typical in the human body, but clothes manufacturers must choose patterns that fit the body type of their target audience. The target audience here is non-western.
I like the fabric and the design so much I would have kept and altered them, but there is no fix possible for such essential pattern flaws. It's a pity.

Verified Buyer

Reviewed by Katie from Utica, ny on Wednesday, February 8, 2017

These pants were way too tight. I'm 5'11' and weigh 155 lbs, I'm thin but have fairly muscular legs. The pants would not fit over my calf muscles. The waist seemed like it would have fit, but the legs were much too tight to even put on comfortably.

Verified Buyer

Reviewed by Padilla from Washington State on Tuesday, February 7, 2017

Great material and well made from a company that I trust to last, time and time again. The pants fit me well in the waist, but the legs are too shinny. I am not fat or big in the thighs. Because they fit so well where it matters, I thought that maybe they would stretch after I wear them, but really they are just too tight to wear. They are even too tight for my teenage daughter, so unfortunately they will be returned. They get four stars on quality, instead of three stars on fit!

Verified Buyer

Reviewed by Cate from Rhode Island on Wednesday, October 19, 2016

I loved the idea of these pants, and when I saw them on sale I ordered straight away. I ordered my usual size 6 and when they arrived not only could I barely get my feet through the leg hole, I couldn't even get them all the way up my thighs to even try buttoning them.

I exchanged for a 10 and 12 (yes, just skipped the 8 because the 6 was so small)

The 10 was extremely tight through the lower leg but fit rather well in the hips, but I couldn't bend at all because of the leg tightness. I tried on the 12 and the lower leg fit perfectly but now I had a gap of 2+ inches around the waist and a big bag of extra fabric around my hips.

Whoever tailored this original design probably never encountered someone with shape to their legs. My boyfriend even commented the leg shape looked like a skinny guys cut. Very straight, very narrow at the ankles, very wide at the waist and hips.

Returned. Gave up.

But the fabric and pocket were a plus. Just sorry I won't be able to use them.

Verified Buyer

Reviewed by catrunner from Santa Barbara, CA on Sunday, March 27, 2016

These pants fit fine from wast to knee; but the lower leg is so skinny I could barely get them on over my foot, and they were so tight around the calf that there is no way I could wear them!