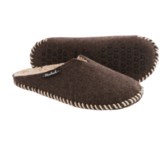 Closeouts. The perfect complement to your favorite sleepwear, Woolrich Felt Mill Scuff slippers have a felt upper made of a blend of wool and recycled polyester and are lined with soft fleece.
Average Rating based on
18
reviews
3.444444
0
5
Verified Buyer

Reviewed by High Plains Drifter from Colorado on Wednesday, February 1, 2017

These are the perfect slipper for me! Definitely my all time favorite. They are warm without being too hot. I don't know if it's just because they are breathable or what but my feet sweat very little in them. The padded sole is just right. The little gripper dots on the bottom work great on slick floors. I plan to buy another pair to have for the day these wear out. I even bought a men's small pair for my wife and she loves them as much as I.

Verified Buyer

Reviewed by Happy Heidi from Wisconsin on Tuesday, January 17, 2017

Bought 1 pair. Extremely comfortable. Great item.
Liked so well bought another pair.
Highly recommend

Reviewed by Tami in VA from Virginia on Tuesday, January 10, 2017

Nice fluffy on the inside it does crush down before too long. The outer shell is rigid and does not collapse so they are easy to slide in and out of. The split on top is nice because I have a high instep. There are little rubber knobbies on the bottom for traction and make a neat scrunchie noise on my hardwood floors. Not for outdoors at all unless it's a quick trip on concrete or paved surface I would say. I think these wil last me a good long while, I LOVE all things (most things) Woolrich!

Verified Buyer

Reviewed by Wray from New York, New York on Saturday, December 31, 2016

I purchased these slippers for myself well over a year ago. They are unbelievably comfortable and beautifully made. Recently I purchased a pair for my husband. He thinks they are wonderful, too! I highly recommend them!

Verified Buyer

Reviewed by Lisa from Michigan on Thursday, December 29, 2016

I wanted a slide in slipper to get around the house in winter since I have wood floors that are cold in my drafty old house. These fit the bill perfectly. They are slightly long (ordered the size as directed for my women's 9 feet) but it's ok for my purposes. They are well made and look to last quite some time. They could be too slippery for some but the rubber nibs on the bottom and a careful manner going down my narrow steps help. The color brown is as depicted in the photo. Recommend!

Verified Buyer

Reviewed by Timb from Utah on Tuesday, December 27, 2016

The feel and fit of the slippers is great, but they are lined with a polyester plastic fleece that matts down quickly and really removed the appeal of having natural wool slippers. They could always line it with a cotton fleece material and then the comfort level would rise.

Verified Buyer

Reviewed by MDJ from OKLA on Tuesday, December 27, 2016

I agree with the other reviewers who said these are stiff. I wasn't sure about them for the first 2 days due to the stiffness. But after wearing around the house 3 or 4 nights and mornings the stiffness in the sole and the upper was not a problem.

Verified Buyer

Reviewed by Shoe-shopper from Minnesota on Monday, December 26, 2016

Bought as a gift - my son picked the same slippers from another website, and they were $50. These Woolrich slippers are soft, cushiony and well-made, they are not "seconds". The only difference was the color - these are dark brown, not the gray color he had seen elsewhere. Half the price, perfect slippers, everyone wins! Always check Sierra Trading Post first for the best deals.

Verified Buyer

Reviewed by Cozy from Minnesota on Saturday, December 24, 2016

Bought 15 pairs I love them so much! Great traction; bump bottom is a great foot massage; easy on and off; lightweight; warm; room for socks. Run small and are not a replacement for shoes.

Verified Buyer

Reviewed by Roadking from California on Monday, December 19, 2016

Bought the first pair in my correct size, but there is a large knot from the stitching you see in the photo that ends right where your inside heel hits it...actually very painful and had to return for a larger size. The larger size eliminated the knot hitting my heel, but now they are too loose. Would "knot" recommend.