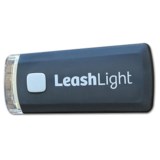 Closeouts. Illuminate nighttime dog walks with the Doggo Retractable Leash Light. The included adhesive touch-fasten strips enable you to easily attach the Doggo to any retractable dog leash. Plus, off the leash it's small enough to travel in your pocket or purse to light up anything in a pinch.
Average Rating based on
7
reviews
2.857142
0
5
Verified Buyer

Reviewed by Javaqueen from Bloomington, IN on Monday, June 19, 2017

No starter batteries. The bulb is very dim and the beam very short, barely adequate to insert house key in door lock. Definitely not effective for walking dog on a 16 foot retractable leash.

Verified Buyer

Reviewed by Brett from Iowa (IA) on Wednesday, October 12, 2016

The light serves its purpose but the backing where the batteries are held is pretty weekly connected causing the light to fall off the rectractable leash housing. But with a bit of care its not a huge issue. Light could be stronger

Verified Buyer

Reviewed by Reno from PA on Sunday, June 26, 2016

This is a nice item. The only problem I have is the button for on/off is difficult at best to use, it appears to be a micro switch with a larger rubber cover that moves way too much.

Verified Buyer

Reviewed by Sue from USA on Monday, June 6, 2016

I ordered the leash light. When it arrived, the package was already opened. Hoping that it was just an returned/unwanted item. I inserted the new batteries. The light did not work. Obviously, this was a returned item that was defective. How it was re-sold, I don't know. I will be returning this item as it does not work and was obviously a return from another customer.



Verified Buyer

Reviewed by RuralGrl from San Francisco on Wednesday, April 13, 2016

Takes 3 AAA batteries. None were included with mine. But I wanted something bright to help me find my path easily along an extended driveway after coming home from a 3-11 shift at the hospital. I attached the velcro to my lunchbox. The light works well.

Verified Buyer

Reviewed by Maksie's Mommy from Bay Area, CA on Sunday, March 27, 2016

this is a nifty little light that sticks to a retractible leash. Comes with batteries - but they were dead. Put in 3 AAA Duracells, and it works great.

Verified Buyer

Reviewed by bill from folsom, ca on Thursday, March 17, 2016

buy this if you have the Doggo Retractable Leash Accessory Bag. does not come with batteries. works well.