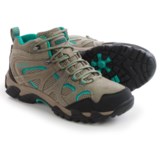 Closeouts. With it's reinforced toe and lugged rubber outsole, Pacific Trail Diller hiking boots are all-purpose light hikers that offer a balance of cushioning, durability and traction.
Average Rating based on
16
reviews
4.062500
0
5
Verified Buyer

Reviewed by STC from Hendersonville, TN on Tuesday, April 25, 2017

i hiked in these on a moderatly difficult hike of 3 1/2 miles.
There was some climing and the entire trail was rocky and covered in tree roots.
Not a smooth trail at all and these held up just fine.
A few times I stumped the front of the boots on tree roots and rocks and didn't even feel it.
My feet didn't hurt during or after the hike.
Good ankle support also.
Toes did begin to get a bit cramped at the end of the hike but not really enough to seriously bother me too much.
These are great for short hikes and walks.
The construction of the boots seem very sturdy.
They appear as if they will last for years.
I definatly recomend these for the price.

Verified Buyer

Reviewed by Amy ADK from Rochester on Wednesday, April 12, 2017

So far wearing them locally,but heading to ADK for a two week hiking trip this summer with them

Verified Buyer

Reviewed by Chev Fland from Indiana on Monday, April 10, 2017

If I was a hiker, I would rate this shoe as excellent for hiking! I do a lot of outdoor work and was looking for something that would offer some good ankle support, kind of like a high-top. These were absolutely perfect. Great sole for traction. Shoes got wet, but my feet didn't. And they offer great ankle support, but with a little wedge in the back doesn't rub irritatingly against the Achilles! I normally wear an 8.5, but oftentimes have to go up to a 9 to get a little wider shoe. However, I got these in an 8.5 and they fit great! So not only did a get a great sales price on them, I got a pair of great shoes to do all my outdoor work in and keep my feet comfortable! I definitely give them an A++!

Verified Buyer

Reviewed by Charli from GA on Thursday, January 5, 2017

These shoes run true to size. I went a size up and wish I would've stayed with my original size. I got a blister on my heel the first day I wore them, but I think it's just the sizing issue.

Reviewed by Tiki from Halifax on Thursday, December 29, 2016

I have had these for a year now. They are still very comfortable. I wear an 8 and bought an 8, true to size with enough room for thicker socks. I have worn these hiking and when I walk my dog. They are alittle cheap but have held up just fine. My only complaint is the sole is a little thin. You can feel more of what's under your feet then typical hikers but I don't mind.

Verified Buyer

Reviewed by swun from Washington on Thursday, December 22, 2016

They fit great. I hope they hold up to lots of hiking.

Verified Buyer

Reviewed by Stephanie from Florida on Tuesday, December 13, 2016

I wear 7.5 in most shoes but bought an 8. The boots were a great fit with wool socks. I did 9 mi the first time I took them out and did not have any irritated areas. The ankle support and cushion were much better than I expected and they are a really lightweight boot. Great boot overall!

Reviewed by Valerie the Mom from Nebraska on Thursday, December 1, 2016

I measure as a size 7.5 wide to extra wide. I ordered these shoes in a size 8. They fit great, so I would say that they run wide, but it really just depends on how tight or loose you make the laces. The inserts that come with the shoes are pretty terrible, but as soon as I switched them out for my own inserts (just cheap gel ones), they are instantly comfortable shoes. They are a little stiff around the ankles, but they also hug the ankles, which is exactly what I wanted. I was looking and looking for some decent boot/shoes that I could wear in the winter that would keep my feet warm and dry from the elements and these fit the bill, although they are more sporty than stylish. Actually, they are lower profile than I expected. Yes, they are a tad heavy, but they are hiking boots, what do you expect? But still lighter than I expected. And they don't make my wide feet look like banana boats. They actually just look normal sized to me, like shoes. So I like that. I am giving them 3 stars for the quality, but adjusted for price I would probably say more like 4. We'll see how they hold up over time.

Reviewed by Loves the outdoors from FL on Tuesday, September 13, 2016

These boots run true to size. Minimal arch support so I switched out the insoles right away. The first day I wore them they seemed kind of loose so I went back and put the original insoles under the new ones. Much better. I'm guessing the roominess is to accommodate heavy winter socks. They are stiff at first but seem to be breaking in okay.

Verified Buyer

Reviewed by Breezy414 from Michigan on Thursday, August 4, 2016

Got these for my gf and she likes them a lot. Fit is spot on and they're holding up well. Seem to shed dirt & mud well. Solid hiking boots overall.