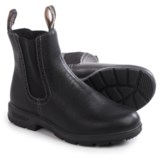 Blundstone Factory 2nds. A Chelsea boot made of Voltan Black leather with perforation details, Blundstone 1448 pull-on boots are hard-wearing classics suitable for work and play.
Average Rating based on
15
reviews
4.266666
0
5
Verified Buyer

Reviewed by Raccoon Patti from Alaska on Monday, October 16, 2017

This is my 3rd pair of Bargain Blunnies. I now have enough to last, I figure, the rest of my life: a pair for work as a cook, a pair for dress and a pair for every day.
Very impressed with this well made, sturdy, very comfortable boot! I've worn my first pair of 1448's every single day for over a year, hiking, walking and working at very physical jobs, and the soles show 0 wear, and they're comfortable as can be.

Verified Buyer

Reviewed by DrK from Canada on Friday, October 13, 2017

Comfortable, fit as expected, and the service from Sierra Trading Post was exceptional. Will likely order the Sherpa inserts to make them a little warmer for cold weather.

Verified Buyer

Reviewed by Dierdra from Fairfield, CT on Monday, October 9, 2017

I've had Blundstone boots in the past and they are very comfortable. This pair however, happened to be very large and wide. I'm a 7 1/2 w/o socks and an 8 with socks. These were way too big even with socks and I went by the size chart and ordered a size 5. Needless to say, I returned them.

Verified Buyer

Reviewed by Shellmar from Minnesota on Saturday, October 7, 2017

I realize others love these boots, but I did not care for them at all. The leather was very stiff and I got a charley horse trying to put them on! The boots seem generously sized, you'd probably need thicker socks. They were a great price, wish they would have worked out....

Verified Buyer

Reviewed by Rcswimmer from Scotts Valley, CA on Tuesday, October 3, 2017

These are beautiful well made boots and do not look like seconds. I usually wear an 8 1/2 or 9 so I ordered a size 6 in these boots and that is the right size. The only problem is getting them on and off! I wore them in my house for several hours and the felt great but because of the difficulty I may return them. I do have a high instep which may contribute to the problem. I love the boots....they really are nice looking and comfortable.

Verified Buyer

Reviewed by Climber711 from Oregon on Saturday, September 30, 2017

I would recommend these to anyone looking for a fall/winter/spring boot! There was no breaking in time, they fit perfectly (I'm a 9 women's and purchased a 6) and are waterproof and warm! These are great for hiking, walking in the city, biking...EVERYTHING!!

Verified Buyer

Reviewed by City worker from NEw York on Wednesday, September 21, 2016

So far loving the boot

Reviewed by Teacup from Massachusetts on Saturday, September 17, 2016

These arrived yesterday. I was so eager to try them on, since I wasn't sure about the size, but STP was right: a size 6 fit my size 8.5 foot. The shoes are beautifully made, they look like quality items and are stylish. I wore them around the house last night and felt very comfortable. They feel broken in. As for why this is a second: I think that the reason for mine is that the raised brand name, which appears on the heel, is not perfectly written out. These shoes look like they will last. I removed the insole and put a thin 3/4 orthotic in; no problem. As always, STP has good deals. These are a bargain.
Having gone to Israel over the summer, where these shoes are very popular, I decided I really wanted a pair, too, either black or brown. I did not want to pay $180, however. I ended up paying about $60, incl. S&H, for these.

Verified Buyer

Reviewed by Natalie from Indiana on Tuesday, August 23, 2016

They fit well and look like the photo. I'm a size 7 and ordered 4 1/2 and they fit perfectly. I have a wider foot so the roomy toe box was great. I will say they don't have the same quality feel as the original Blundstones. I don't think the leather and finishing is as nice. Overall quality is just down compared to the originals. However for a barn boot, their fine for the price. We'll see how they hold up this winter.

Reviewed by glampingisforwimps from san diego, ca on Wednesday, July 20, 2016

lots of varying feedback on this boot, looked at reviews on amazon as well. here's my 2 cents. i have a wider foot but typically wear most womens brands in regular/medium width. for reference, the length of my foot is a perfect 8.5 but sometimes i have to go up to a 9 depending on the maker, i am consistently a 39 in campers, dankso and birkenstock. i can't stand hiking boots, most of them are synthetic and uncomfortable especially the water resistant ones...what i really needed were a pair of boots that were weatherproof for camping and light hiking with good support and comfort. i was surprised about the price on these blundstone and i know they are imperfect however i couldn't see anything out of the ordinary that would affect it's performance. i went with a 6 M, (there was no 5.5 which is the recommended size for an 8.5). i wore these around the house with thick socks for about 30 minutes...my toes spread out nicely and they are extremely comfortable right out of the box. those who said they weren't comfortable probably didn't get the right size. i could have gone to a 5.5 if they were in wide, as there is a bit of length in the toe box. i also read reviewers who said the toe box was narrow which i also found surprising because my toes are quite chubby and i had no problem there either. i used to wear doc martens in my youth...the style is similar without the lacing. even though returns are a pain with STP, these are a deal so i would go for it if you are seeking an alternative all weather boot. i am very happy with my purchase.