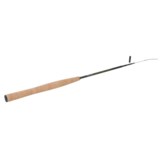 Closeouts. Wetfly's Kodomo Creek Tenkara fly rod kit includes all you need to enter the world of Tenkara fishing, a technique that eliminates the reel and strips fly fishing to the bare essentials. The kit includes rod, line, tippets and flies along with a guide that has tips on Tenkara technique.
Average Rating based on
6
reviews
2.833333
0
5
Reviewed by Coach from Colorado Rockies on Sunday, November 5, 2017

Thanks to STP for the easy return.

Sadly the way the sections fit into one another is a design flaw (it is a telescoping rod). Seating the rod parts too tight will result in them pulling through. Seating them too lightly will allow flexing in a bad way. The result will be time spent on the side of a stream repairing the rod or worse, breaking it.

Other than this flaw, the product is pretty cool. I wish it worked.

Reviewed by Lpshop from Wisconsin on Monday, October 2, 2017

Broke after the second use as I slipped it back into the case. The "warranty" costs $50 plus shipping. What a sad sad warranty.

Verified Buyer

Reviewed by Joe from Atlanta on Wednesday, July 26, 2017

I've been curious about this discipline for quite a while. One holdback was the length of most rods - 12 to 15 feet. This works on big water but not on small streams like I have in North Georgia. I fished this 8' rod last week and found it perfect for these waters. I could use a highstick nymph only approach with my own rods, and I often do, but Tenkara forces you to concentrate on only one method. Without the constant thoughts of, should I switch flies? Dry/dropper? Weight and indicator? I was able to concentrate on where I was fishing and really cover water. My first fish was a beautiful 10" streambred rainbow. I may not become a full Tenkara guy but I do enjoy the stripped down approach!

Verified Buyer

Reviewed by Will from CO on Monday, July 17, 2017

I bought this kit to keep around for friends & family try Tenkara. Unfortunately this rod (8' length') is too short, but mostly too stiff to present a dry fly effectively. The kit comes with a rod, tippet, flies, and... fly line? The essence of tenkara fishing is a light line, the lightest you can get away, coupled with a soft rod. Switching out the fly line for some #3 level line was a mild improvement in casting & fly presentation, not satisfactory though. There are other scenarios where it could work, nymping, worm fishing, etc. Wetfly dropped the ball on this one, in fact I take some offense to them marketing this as a beginners tenkara kit. Even at 70$ it is a waste, save your money for a real tenkara rod.

Verified Buyer

Reviewed by Rick from Tennessee on Monday, July 10, 2017

This rod is the perfect length for tight streams with lots of overhead growth. However, it still cast really well. The include duraleader is great. I've only used braiding lines before and this one was easy to learn. The included flys are nice as well. At this price this is a great kit for someone looking to get into tenkara.

Verified Buyer

Reviewed by Patrick from NW Corner CT on Monday, April 17, 2017

Rod is a little on the stiffer side of the equation. Eight feet is a good size for the little brook trout streams I like to fish, especially this time of year. Package comes with a Tenkara line that is similar to a short section of fly line, maybe a two weight. I tried this out and ultimately abandoned it in favor of a 50 inch furled leader as the basic line. I add tippet to that. Your mileage may vary.

This is a good rod for getting into Tenkara if you plan to fish small streams or from a boat or tube for panfish or small bass.