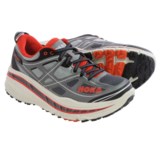 Closeouts. A plush trail shoe that's durable enough for road use, Hoka One One Stinson 3 ATR trail running shoes have been redesigned from the ground up. Improvements include a more precise Late-Stage Meta-Rocker for improved forefoot support and fine-tuned underfoot geometry for better off-road stability.
Average Rating based on
39
reviews
4.358974
0
5
Verified Buyer

Reviewed by carlos from California on Tuesday, August 15, 2017

I just took them for a run the other day & they felt great. Air like feel & very comfortable. Great price too!

Verified Buyer

Reviewed by John from Newport Coast, CA on Monday, July 17, 2017

Great running shoe, super light, long life, slow to pack

Verified Buyer

Reviewed by Li from USA on Saturday, July 15, 2017

I returned them because they were a bit too tight across the ball of my foot. I have not worn Hoka shoes before, but for the limited time I tried them in my house, the rocker footbed and cushion of the sole felt good, but I didn't feel much arch support. The quality of the materials appeared to be good.

Verified Buyer

Reviewed by Utahhiker from Utah on Friday, July 14, 2017

I have the Hoka hiker and am 100% sold on them. I was hoping the Stinson would have a similar feel. The toe box is a little narrower than I like making me give them a 4/5.

Verified Buyer

Reviewed by Bert from Maine on Wednesday, July 12, 2017

Best shoes for your feet!

Verified Buyer

Reviewed by Suzanne from UT - Utah on Sunday, July 9, 2017

I now have these shoes in blue and in gray. They're the most comfortable running shoes I've ever had. Buy a 1/2 size up.

Verified Buyer

Reviewed by Setter Rob from California Coast on Saturday, July 8, 2017

My orthopedic surgeon told me to buy some Hokas for a foot problem commonly seen in ultra-marathoners (I am not), arthritis in the phalangeal joint of the first metatarsal that causes a major shift in weight to the fifth metatarsal, with pain and swelling ensuing. These are helping a lot. So far I would wish for nothing better except for a little more room across the front of the shoe and perhaps more stability.

Reviewed by Ultra Gino from New Mexico on Sunday, July 2, 2017

I've been running in Hokas since 2011. My first pair of Stinson trails delivered an unheard of 1000 miles before the uppers gave up. The newer Stinson 3 ATR models have only made it 400-500 miles before breaking down but the benefits of the max cushioning make them more than worth it. Wether you are a serious runner or beginner, a pair of these shoes should be in your closet. You won't find a better shoe at this price anywhere.

Reviewed by James R from Lake Arrowhead CA on Monday, June 19, 2017


This is the most comfortable shoe I have ever worn and just started my second pair. and my 7th pair of Hokas. I have severe back issues - a failing 5 level lumbar fusion (7"rods, 13 screws, 4 cages), facet joint issues in 3 levels above the fusion that cause muscle spasms so strong that my ribs are compressed, a C6-7 fusion, and 5 more herniated discs in my neck. With these amazing shoes I am able to walk 5 - 8 miles every day in the mountains, where I live (Lake Arrowhead CA). I have worn out 2 pairs of the Vanquish on pavement, but they quickly get slippery on the trail. The Stinsons are perfect for roadway and trail. The cushioning is like nothing I have ever seen before and because of it I have less pain after I walk. I walk in pain because I have to, to keep my legs strong and functioning, but I used to be into long distance wilderness trekking and back country cross country skiing, and now I walk for the joy of it, despite the pain in my spine. Hoka shoes make it doable. I also have a pair of Tor low that are perfect for snow and ice. It's almost freaky how good the grip is on ice. The low pricing here at STP make it so I can afford these amazing shoes

Verified Buyer

Reviewed by Venicecat from California on Tuesday, June 13, 2017

I love the meta rocker at the front, and the shoe is good looking, stable, and well made (like all Hoka One Ones). The only flaw in the shoe is that it is narrower than Hokas usually are. I had to have them stretched in the toe area. Now they are very comfortable.