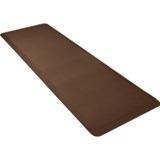 2nds. Epic cooking projects and the clean-ups that go with them will be a lot easier on your feet, joints and back when you're standing on the ingeniously designed Anti-Fatigue mat from WellnessMats. Constructed from recyclable polyurethane with a beveled edge to prevent tripping, the mat is resistant to puncture, heat, stains and bacterial contamination.
Average Rating based on
15
reviews
4.733333
0
5
Verified Buyer

Reviewed by Cindy from Northern CA on Monday, May 1, 2017

Have a shorter Wellness Mat that I love already and when I saw I could get the much longer one I have coveted here for a great price I did! No regrets!

Verified Buyer

Reviewed by Hiking mama from Colorado on Friday, March 31, 2017

I have been considering purchasing a cushioned mat for the kitchen for some time. When I saw the sale price for this mat I jumped on it. The rave reviews are spot on. It feels amazing.

Reviewed by Wayback Machine from Ohio on Saturday, March 11, 2017

This is the finest anti-fatigue mat ever! The price is unbelievable as well. As a nurse of 32 years with foot issues the kitchen is now my favorite place to be on my feet.

Verified Buyer

Reviewed by Love Arc'teryx from Colorado on Monday, February 13, 2017

Mats are cushioned and comfortable in our kitchen. Guests also love them. Great price @ STP.

Reviewed by M from NJ on Wednesday, November 30, 2016

Have severe lower back issues. Wellness Mat allows me to cook a meal in relative comfort. Purchased the 6' x 2' size, wish it came in longer length.

Reviewed by LiliClaire from Nevada on Friday, November 11, 2016

This is the third Wellness mat I have purchased...the first were full price and have been in my kitchen for the past 5 years. This one was a gift for my mother. I can't tell the difference. These wear very well and clean up easy. I like that the edges really do stay flat....no tripping over them. Also they stay bouncy even after 5 years and continue to offer good support. Recommend highly!

Verified Buyer

Reviewed by Rancher Sheila from Eastern Oregon on Wednesday, November 2, 2016

Love it. Prevents backache while we work on our feet for hours. Great to have for canning, processing venison, and other projects that require hours of standing up.

Verified Buyer

Reviewed by Debravous from Minnesota on Tuesday, August 30, 2016

I already had the Cuisinart mats but thought I would try these because they are longer and would fit better in my kitchen. The mat is by far superior in every way! It has a smooth finish that makes it much easier to keep clean because the striation's in the Cuisinart mats tended to get food stuck. The beveled edge is the best part because it prevents tripping. I found myself tripping with the Cuisinart mats because of the lip. Highly recommend.

Verified Buyer

Reviewed by HI 5-0 from CA on Tuesday, August 23, 2016

Met my expectations for cushioning and the beveled edges which in other products decreased over time and caused me to trip on the upturned edges. Very similar to the mats used In my job as a pharmacist, helping with leg fatigue. However, the dark color does show any contrasting debris which in turn can be picked up.

Verified Buyer

Reviewed by Carolyn from Michigan on Thursday, August 18, 2016

These rugs/pads are very comfortable. I have only had them for a few weeks so I can't say if they're durable, but so far so good. I also really like the size (larger than some I have had in the past).

I have the brown and it's a nice color. I thought I would like the plain (no design) matte finish, but I've determined a little design and a tad of sheen would look better or at least hide some hide some dirt. They show every spec of dirt or drop of anything. I find this annoying and it takes away two stars. I'm not a slob or a neat freak. This is average cooking for four people.